SriLankan Airlines on the 'Silk Route'
Posted by Editor on March 12, 2012 - 3:07 pm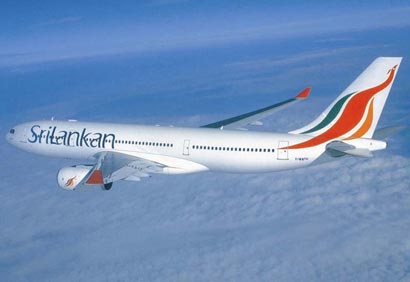 Business class passengers, departing Bandaranaike International Airport on SriLankan Airlines, to any of its 34 online destinations, could avail of a unique 'Silk Route' offer which streamlines check-in, customs, immigration & security formalities
The 'Silk Route' experience, is the latest addition to SriLankan's premium Business class product, commencing 15th March, 2012. There will be no more queues, as passengers will be met on arrival at the 'Silk Route' Departure entrance and escorted to the Silk Route Lounge, while all travel formalities are finalised and the Boarding Pass is handed to the passenger.
The press release issued by SriLankan Airlines further states passengers can then look forward to be pampered at SriLankan Airlines' Business Class lounge – Serendib, which offers a unique serene atmosphere with an exclusive 24-hour buffet which includes starters, main courses, salads, fruits, juices, snacks, desserts, alcoholic beverages and a choice of cocktails, smoothies and mocktails; Ayurvedic Spa treatment; sleepers for a quiet nap; shower rooms; smokers' room; and an Internet Café complete with WiFi Zone, movies, Cable TV and 3D Games.
" Our focus is to streamline the travel experience and with 'Silk Route' we open an exclusive area, available to SriLankan's Business Class and which is specially advantageous during peak times" said Saminda Perera, Country Manager, Sri Lanka & the Maldives.
SriLankan Airlines is progressing with its aircraft cabin interior upgrade in all its long-haul aircraft, expected to be completed by the middle of this year. The business class product offers the latest
flat-bed seats with a seat pitch of 79 inches. All seats will be equipped with the latest Inflight Entertainment System with audio/video channels and video games. Business Class will also have an On-Demand Movie Library. SriLankan has already completed the upgrade in more than half of its long-haul fleet.
The Silk Route Lounge located at the Departure area of the BIA, is managed by Airport & Aviation Services (Sri Lanka) Ltd.
Source: Government News Portal
Latest Headlines in Sri Lanka