Stop maids running away from sponsors – Saudi tells Lanka
Posted by Editor on June 29, 2015 - 10:47 am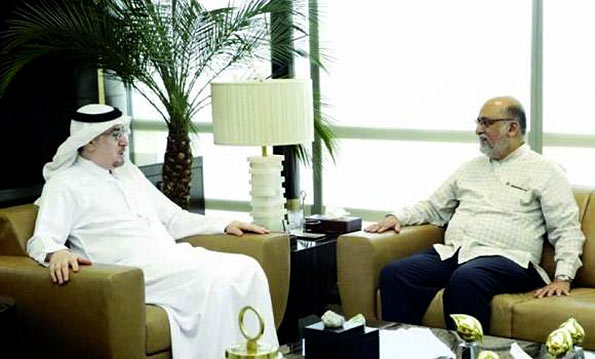 Labor Minister Mufrej Al-Haqabani, left, meets Sri Lankan Ambassador Mohamed Hussein Mohamed in Riyadh on Wednesday.
The Saudi Labor Minister Mufrej Al-Haqabani has asked the Sri Lankan government to stop maids running away from their Saudi sponsors soon after their arrival in the Kingdom.
Al-Haqbani told Sri Lankan Ambassador Mohamed Hussein Mohamed that several maids have run away after spending barely three months in the country. This was costing each affected Saudi sponsor SR25,000, he said.
The minister said that while this was only a small fraction of the Sri Lankan maids in the Kingdom, the situation had to be nipped in the bud. There are about 400,000 Lankan housemaids in the Kingdom.
The minister also complained that some maids were arriving pregnant in the Kingdom with false medical reports. In addition, he asked the Sri Lankan government to reduce the recruitment costs for housemaids.
Responding to the minister's concerns, the Sri Lankan envoy said that the Association of Licensed Foreign Agencies has already decided to reduce the recruitment charges to SR12,000, which would be discussed at the next bilateral meeting in Colombo after Ramadan.
Mohamed said that maids obtain medical certificates six months ahead of their travel dates and become pregnant during the waiting period in Sri Lanka. He promised that arrangements would be made to deal with this situation.
To prevent maids from running away, he said that the Sri Lankan government has organized an intensive orientation program for those seeking work in Saudi Arabia. "This will put a stop to this problem because it prepares housemaids mentally to work in the Saudi environment, which is alien to them."
According to a pact between the Kingdom and Sri Lanka, the parties have agreed to review the labor agreement once every six months. The next meeting would be in Colombo in July, he said.
The accord, which protects employers and employees, allows workers to keep possession of their passports, and have salaries paid into their bank accounts. "Under the pact, domestic workers can be assured of a safer, more decent and problem-free working environment," Mohamed said.
The labor agreement covers 12 categories of domestic workers including housemaids, drivers, cleaners, and waiters employed by individuals. It also stipulates that contracts should be in a language understood by the worker.
Ahmed Al-Fehaid, undersecretary for international affairs, was also present during the discussions, Arab News reports.
Latest Headlines in Sri Lanka