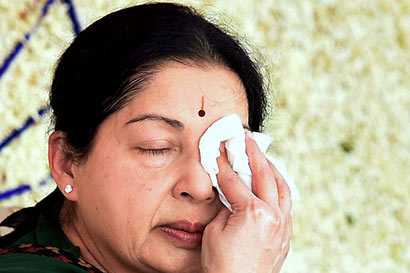 NEW DELHI: The Supreme Court on Friday granted interim bail to AIADMK chief J Jayalalithaa, undergoing jail term of four years for amassing disproportionate assets.
A bench headed by Chief Justice H L Dattu on October 13 had posted the case for hearing on October 17 after senior advocate Fali S Nariman pleaded to the court to "accommodate" the case in this week itself.
October 17 was the last chance for Jayalalithaa to come out of jail before Diwali as the apex court will go on vacation for a week after Friday.
Jayalalithaa, who was denied bail by Karnataka high court following her conviction and four year sentence in a graft case, had moved the Supreme Court for bail on October 9.
(​Supporters celebrate granting of bail to Jayalalithaa at AIADMK headquarters in Chennai. TOI photo by Julie Marriappan
The AIADMK chief, who has been behind bars since September 27, has challenged the high court order which had refused her bail.
Jayalalithaa has pleaded that she has been sentenced to only four years jail in the case and she is also suffering from various ailments as grounds for her immediate relief.
The former chief minister also cited grounds of being senior citizen and woman for getting out of jail.
The 66-year-old politician was denied bail by the high court on October 7 despite the Special Public Prosecutor not objecting to grant of conditional bail to her.
The high court had also rejected the bail pleas by Jayalalithaa's close aide Sasikala and her relatives V N Sudhakaran, disowned foster-son of the former chief minister, and Ilavarasi, who have also been sent to four years in jail in the 18-year-old case.
The special court had held Jayalalithaa and three others guilty of corruption. The court had also slapped a fine of Rs 100 crore on the AIADMK chief and Rs 10 crore fine on each of the three other convicts.
(Times of India)