Tamil Eelam in pictures: Who were living in a cuckooland?
Posted by Editor on October 9, 2014 - 11:21 am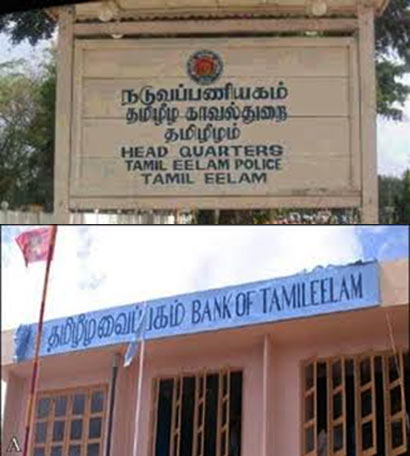 It is 5 years since the defeat of the LTTE. GOSL has proscribed a host of Tamil Diaspora organizations operating as human rights/charity organizations while also naming over 400 individuals with clear evidence of links to the LTTE. Nevertheless, what is baffling is how people of these organizations could set themselves up, think of devious ways to fool the masses with propaganda, design programs and write publications all with the intent of raising funds to channel to the LTTE to purchase arms and run its terror campaign in Sri Lanka. The nature of their plan saw setting up of Tamil Eelam banks, courts, police, currency, checkpoints that functioned openly and without any international condemnation except for the diplomatic statements following the daily LTTE killings. Scores of international agencies and officials were quite compliant to pass through these LTTE 'offices' and watch child soldiers carry out their errands and not one used their official status to cry foul or carry out a campaign against LTTE.
Are these people human beings to allow Tamil children to be kidnapped and turned into child soldiers while their own are enrolled in foreign schools/universities and progressing in their careers?
Are these people human beings to watch little children taken away from their parents and put into a severe training program and taught to handle arms and kill when their own are given teddy bears, toys and pampered?
Are these people human not to feel remorse or do they not have a guilty conscience for the crime they have been committing over the years?
Are these people living on this earth? Can they pretend to be lobbying for a 'cause' which they know has blood on its hands?
Are they human or are they living in a make-believe world to be able to pretend that what they are doing is right when they go telling lies, make up distortions and try to sell a totally opposite picture to the truth?
Are these people human beings to organize gala events handing over a cheque or two to keep the semblance of 'charity status' alive while the bulk of the money they raise are money laundered and sent to procure arms and part of which go to their own bank accounts raising their lifestyles.
Are the people associated with these LTTE fronts operating from overseas, people who are foreign and non-Tamils in a cuckoo land themselves? What personal ideology can ever make up for the fact that LTTE has carried out close to 400 suicide attacks, killed over 250 Tamil intellectuals, chased out Sinhalese and Muslims from the North, assassinated scores of politicians, killed a foreign leader on foreign soil and indulges in a host of international illegal rackets that include human smuggling, credit card scams, drug trafficking, transnational prostitution etc? On what basis or criteria are these facts ignored by foreign agencies, foreign organizations, foreign media, foreign journalists, foreign politicians, foreign academics in agreeing to appear as chief guest, guest speaker or to write reports and lend their names to be included into the publications of these LTTE/ banned foreign terrorist organizations.
Are these people not human to empathize with the rest of the Sri Lanka in the manner it has suffered over 3 decades?
The pictures below give a good example of what Sri Lanka had to tolerate for 3 decades helped in large measure by a group of people comfortably living overseas, holding foreign passports with no inclination to live in Sri Lanka except to arrive on holiday.
These people aided and abetted terrorism. The terrorist organizations abroad have come no where near to what the LTTE was able to achieve with the help of its Front Organizations overseas. The brains behind the strategies were Tamils and non-Tamils most of whom are not Sri Lankan citizens but have obtained foreign citizenship.
MGR Ramachandran channelled Rs.30million to LTTE in the 1980s through the State of Tamil Nadu by setting up the TRO. It was the first instance of using an organization as a charity to funnel funds to a terrorist movement pretending to be a liberation movement.
From there the story unfolded to enable LTTE to bump off or silence all other Tamil militant groups to ensure it remained the 'sole representative' by default.
It is a pity that we are yet to know how many Tamils actually and silently give their nod of approval to the LTTE inspite of its murderous ways.
We are yet to know how many Tamils are the sufferers while the other Tamils did not mind riding on their suffering. This fact is important because that will answer the puzzle as to why LTTE prevailed for so long and why inspite of the LTTE defeat no one is coming out to offer the hand of reconciliation except to be eternally complaining about what is not given though none of the same complainers raised a single voice against the LTTE. It is not a case of freedom being enjoyed now or freedom denied then, it is merely the realization that the mentality of Tamils is something we have yet to comprehend and until the Tamils themselves are honest we are unlikely to see any form of reconciliation whatever fancy notions people are introducing. What is at the back of the minds of the Tamils is what stops them from taking that all important first step.
The LTTE was always considered 'unstoppable' and the war was termed 'unwinnable'. Leaders did not place enough faith in their troops and Leaders chose to ride on the LTTE to hide a host of their weak points in governance. These all contributed to make LTTE into a force that became a daunting task.
LTTE ran a virtual Government of its own. The pictures below will show how far LTTE lived in a cuckoo land helped by its foreign collaborators.

LTTE recruitment form of R Nagalingam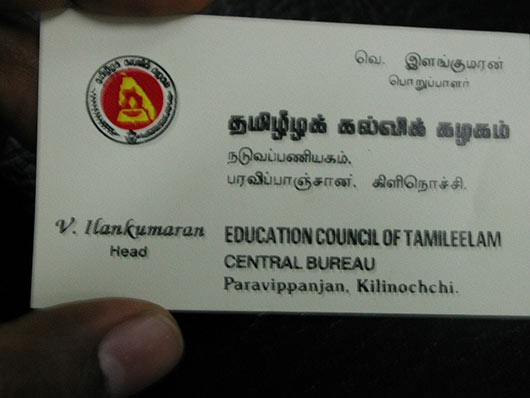 – by Shenali D Waduge
Latest Headlines in Sri Lanka