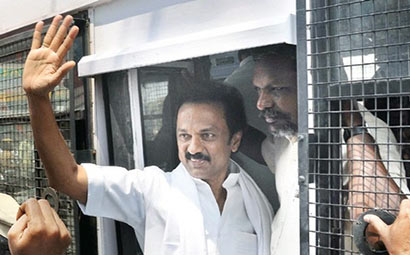 – Submitted by Walter Jayawardhana –
The dawn-to-dusk bandh called by the DMK-backed Tamil Eelam Supporters Organisation (TESO) evoked mixed response across the State on Tuesday, with normal life remaining unaffected, except for sporadic closure of commercial establishments.
The bandh was called to pressure the Centre to vote in favour of the US-backed resolution against Sri Lanka with "strong amendments" by India. In Chennai, the bandh hardly had any impact as public and private transport plied normally. Offices, schools and colleges functioned as usual.
In Madurai, while the bandh evoked extremely poor response, the divide within the DMK came to the fore with Union Minister M K Alagiri keeping away from the protests.
In Coimbatore and Tiruppur, major industrial hubs of the State, industrial units functioned as usual with very few downing shutters. About 1,600 DMK supporters were taken into preventive custody when they tried to stage protests in parts of Coimbatore. In the Delta districts of Thanjavur, Tiruvarur and Nagapattinam, the scene was similar with the general public hardly concerned about the bandh call.
Curiously, DMK cadre in Tiruchy began their protests as early as 6 am, much before any shops were likely to open. A contingent of party cadre tried to take out a rally from the Central Bus Stand, when they were detained.
Tense moments prevailed at Arni in Tiruvannamalai when a DMK youth wing functionary attempted self-immolation. The attempt, though, was scuttled by the police. However, the bandh affected business and traffic in Puducherry, where busy markets wore a deserted look as most of the shops remained closed. (Courtesy: New Indian Express)