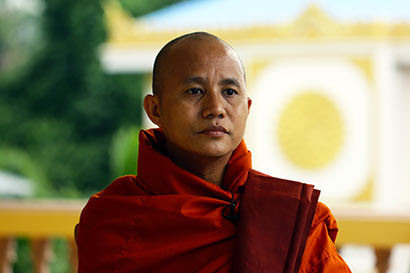 The US and Allies are open in their condemnation of Islamic militant groups and now these noble nations have taken upon themselves to vanquish the 'enemy'. It is a totally different matter that these Islamic militants find their daddies in the very nations that are supposedly 'going after' them. Yet, when nations like Myanmar are raising their voice against incursions by Jihadist movements why have these nations been condemned for extremism, hate speech? Ven. Wirathu is called the 'Face of Buddhist Terror' and referred to as a 'Terrorist'. How many have even listened to his arguments before judging?
Excerpts from the following video is given for readers to judge for themselves:
The introduction to the video describes Ven. Wirathu as 'instigating hatred against Muslims'. The speech is said to be the 'root cause that inflamed the situation in Burma'.
http://www.youtube.com/watch?v=N7irUgGsFYw
"whatever you do, do it as a nationalist"
"If you look at anything with your eyes, see it in a nationalist point of view"
"If you listen to anything with your ears, listen to it in a nationalist way"
"Anything you do, do it in a nationalist way"
"nationalism must be routine in your life, as you eat, move or do business"
"the weaknesses of nationalism in public forced me to preach"
"they (Muslims) are not like that"
"whatever they(Muslims) do, they do it for their people"
"Before the current government, at the time of military rule, they (Muslims) made friends with generals"
"they (Muslims) are united under one idea – "nationalism" is to work for their own people"
"they (Muslims) now monopolize the construction market in Yangon"
"do not think that they (Muslims) love the military…only for the sake of the benefit of their people they cooperated with them (military)"
"When current government was elected several of them (Muslims) joined the party"
"they joined the political parties not because of any interest in politics, not because they respect human rights but for the sake of their people. Their religion has abused human rights. They are seriously abusing the freedom to believe"
"They join current government party because when the party gets elected they will get positions"
"They can then protect their people"
"It is their aim to join NDL Party. NDL Party is in a good position. They too will get good positions"
"When I visited Meikhtilar, a person said the ostrich become Muslims (meaning NDL Party becoming Muslim)
"I asked him why.. he said all the Muslims have become members of the party"
"Not bad what he said. Think about it, they don't have any belief in politic, yet they have involved in politics because they have nationalism" for Muslims
"They have got positions. Their race and religion is progressing"
"I visited Myot Hla township"
"Local monks complained to me that they could not perform Buddhist ritual ceremony on Martyrs Day"
"What a rude Governor of the township, I said…how come they refused to perform Buddhist rituals on the day Gen. Aung San was assassinated".
"the local monks told me that the property owner is a 'Kalar' (reference for Indian looking people and with reference to Muslims) he does not allow us to perform"
"see now they got position. NDL cannot perform according to belief because NDL office is in 'kalar' property"
"what would happen if they become head of the Party"
"what would happen if they become a Member of Parliament…or become leader of our nation?"
"think wisely. It is scary. The more you would think, the more you would get scared".
"when they do business, they do it in a nationalist sense. That is why they keep buying property and land everywhere"
"they use the power of money to get women, to attract women"
"They do all for their people in a nationalist sense."
"When military was in power, they made friends with Generals"
"when political parties were formed, they influenced the head of the parties and when NDL became famous they influenced her (Aung San Su Ki)"
"When she returns from US, from the airport she used 'kalars' (Muslims) cars. When she visited Mandalay she used the same car. She is now under their grip. They have surrounded her."
"Dau Su (Aung San Su Ki) was totally silent when our people were killed and slaughtered in Arakan. She can't say anything".
"Min Ko Naing (88 generation student leader) could not do anything in the Arakan crisis. They have surrounded him. Beware Rangoon people."
"We must prioritize nationalism. It is very important"
"3 or 5 days ago we visited Mon state. We saw a transport company called Yar Zar Min, owned by a Kalar (Muslim)"
"This Kalar became the President of the transport association. Then he abolished Ka Htein (annual Buddhist charity) and said it is nonsense things."
"See, as soon as he got the position… he abused freedom of belief and charity. Be careful"
"We can differentiate between faith and human rights….politicians cannot differentiate between faith and human rights.. so they can neither protect religion nor the people. If this type of people keep getting positions the culture of Ka Htein (Buddhist charity) would vanish. Because he got position he abolished Ka Htein (Buddhist charity).. people would not be able to donate and earn blessings".
"When it happened young monks from Mawlamyine organized a Monks Network, printed stickers and asked people to support fellow Buddhist businesses, shop only in Buddhist shops and used the transportation owned by the Buddhists. They have used the slogan 786 to patronize only Muslim shops. We also say to eat at 969 restaurant, use 969 transportation, use only 969 taxis, buy only from 969 shops, sell only to 969 shops….do not let your money go to your enemy. They will marry, force you to convert to their religion and their children will become a threat to the country..they would destroy our religion. When their population increase they would do the same as to Rakhine. They would snatch away our lands from us. That is why you must be long sighted and not short sighted. If no one uses Yaz Zar Min transportation coach from Mawlawyine to Yangon will be empty. From Yangon to Mawlawyine is coach is full because our golden Burmese will use it. So they reduce the price. At first it was 6000 kyat but was reduced to 5000 kyat. Still no Burmese used the coach. Then they reduced it to 3500 kyat  – so now all are using it."
"If we lose now, they would form groups and by the support of Saudi Arabia oil money they would compete with our businesses. Please do not save money and go for cheaper service. Your little money would be insignificant but when you add it together our enemy would become more powerful. They would become dangerous to us. They would one day take our resources from us. If our people travelling from both sides support us fellow Buddhists in a nationalist sense and sacrifice the 1500 kyat we golden Burmese would win this fight. After that we can win more fights. We have to concentrate on one target after another."
"We have to protect our race"
"Now more of our fellow Buddhist brothers are looking to reduce the price to compete with them"
"Without mass public support we will lose Mawlamyine"
In another speech, Ven. Wirathu had this to say : http://www.youtube.com/watch?v=RJAPKavKb_U
"the riot in Rahine is not concerned with only Rakhine (Arakanese) people"
"the Arab world is supporting behind the Bengalis…. But sadly even the Myanmar nationalities are not supporting the Rakhinese"
"those Bengalis are being led by Waqar Uddin and he is controlled by Jalalaini. With the aid of the arab world, people like Waqar Uddin and Jalalaini have been ordering the Bengalis and systematically waging a Jihad war on Rakhine".
"Last May they planned jihad on 3 towns"
"The Rohingya Solidarity Organization doped children with drugs and made them to fight"
"The RSO disguised themselves as ladies and got into fights".
"Their plan was to invade the three towns on 8 August 1988"
"They had military training and had enough weapons". Their war was not successful. They are seeking revenge again".
"They have announced that Rakhine State would be their Rohingya country… this announcement means that they are planning to establish an Islamic state in Rakhine State"
"So the riots in Rakhine is not between two ethnic groups. It is merely an invasive Jihad war…sadly the political parties and organizations are neglecting and ignoring this fact".
"If RSO is formed for the people – please protect the people"
"If RSO is formed for the country – please protect the country"
"understand the Rakhine issue is a country issue"
"Protect the Rakhine people, protect the Rakhine state"
"I, the revered Wirathu hereby declare openly it is high time we protected the Motherland Myanmar by protecting and supporting the Rakhine State". Rakhine means one who maintains his own race.
How can a nation such as Myanmar defend itself…
When writers like Hannah Beech says 'Buddhists go bad' and Time Magazine carries as its front cover Ven. Wirathu christening him 'Face of Buddhist Terror' without placing facts before the public.
When 'Rohingya's have become a convenient excuse for international interference and the originators of the crisis are well aware that these are Bengali Muslims who had been used by colonial British during the Japanese occupation of Myanmar and given arms to wipe out entire Arakan villages (refer Historian Aye Chan and Deputy Commissioner U Oo Kyaw Khaing)
When Britain promised a Muslim Nation area for the assistance given the very same Bengali Muslims of the Chittagong District of East Bengal (now Bangladesh) had requested Jinnah of Pakistan to incorporate North Arakan with East Pakistan before India created Bangladesh in 1971 (thus the issue has a history and Britain is the root cause). Thus virtually all Muslims of Rakhine area trace their origins to Bengali immigration during British colonial rule and well documented from 1870s to mid 20th century.
When CIA and MI6 have built the foundation for the crisis first creating an exodus of "Rohingyas" in 1978 and 1991 to Bangladesh to set an international crisis and build the 'Buddhist terrorism' theme. British colonial policy was to engulf nations with illegal immigrants to be used to ignite friction.
When 'Rohingyas' are manipulated through Islamic movements funded by Arab nations and controlled by Neo-Imperialists:

Rohingya Solidarity Organization (RSO)
Arakan Rohingya Islamic Front (ARIF)
Rohingya Patriotic Front (RPF)
Rohingya Liberation Organization (RLO)
Itihadul Mozahadin of Arakan (IMA)

When Asia Times in 2002 reported that Rohingyas were trained by Jamaat-e-Islami in Bangladesh, Gulbuddin Hekmatyar's Hizb-e-Islami in Afghanistan, Hizb-ul-Mujahideen in Jammu and Kashmir, Angkatan Belia Islam sa-Malaysia – Islamic Youth Organization of Malayasia. Afghan instructors have been seen in RSO camps and over 100 RSO fighters trained in Afghanistan. Intelligence sources say Rohingya recruits were paid 30,000 Bangladeshi taka to join and 10,000 taka per month while families of recruits killed in action got 100,000 takas. http://www.atimes.com/atimes/South_Asia
When 'Rohingyas' are very much part of an international terrorist network how can they plead innocence and Myanmar has every right to secure its boundaries from individuals and groups involved in terror, obtaining training in arms and having connections to militants. This background information kept hidden by Western media totally negates the perception built up about the innocence of Rohingyas.
When these Islamic groups – ISIS, Boko Haram, Al Qaeda, Rohingyas etc all claim to be 'true Muslims' following Quranic verses in the manner they kill without question however brutal it looks in the 21st century. These groups are all being used by the West with a handful of Muslim nations supplying the men for the objective. The OIC head arriving in Sri Lanka has condemned the Buddhists of Myanmar but not the Rohingyas that are funded by the Arab world. Muslims are scared to utter a word because they are silenced fearing criticism of Koran being blasphemous.
Bill Roggio of the Long War Journal in 2013 highlighted numerous other connections of RSO with international Islamic groups. Servants of Suffering Humanity is a donor to the Harkat-ul-Jihad-al-Islami (HUJI) to fight in Myanmar. The group also receives funding from British Muslims who work under control of MI6. HUJI is alleged to be helped by the Islami Bank Bangladesh, a sharia bank that has diverted 'zakat' funds towards militant jihad.
While we condemn Islamic groups and non-Muslims share fears of Muslim invasion with Muslim Shariah law and Shariah social and criminal systems running parallel in even multicultural secular nations what is startling is the fact that all these Islamic groups are steered by US, Britain, Israel using their allies in the Arab world led by Saudi Arabia to supply men for the Jihad and use Islams texts to wage war against non-Muslims while their neo-con backers can enter these targeted nations, keep the nation destabalized using these indoctrinated men while they take over the wealth and resources of that country and make profits not to the nations that they represent but to their own personal bank accounts.
Its high time the public of these Western Neo-Colonial nations and the Muslims in particular realize that they are simply guinea pigs and the wiser among them should realize that the new slogans of Islam being used has nothing to do with Islam but simply to create dissent to which Muslims have become ready prey.
Ven. Wirathu joins all non-Muslim, non-imperial nations fighting hard to preserve the ancient history, identity, cultural values and religious identity and race of their people.
Ven. Wirathu should not be denigrated for that.
– by Shenali D Waduge