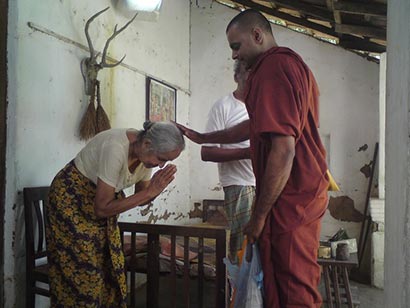 Onlanka News – By Walter Jayawardhana
The Hindu said the Sri Lankan entry "Abinikmana", the directorial debut of theatre personality Hector Kumarasiri at the Buddhist film festival in New Delhi was well appreciated.
Kumarasiri participated when the film was shown at the Indian Council for Cultural Relations in the Indian capital.
The Hindu said, "For the first time in his nearly four-decade-long career in theatre, noted Sri Lankan theatre personality Hector Kumarasiri has directed an art film inspired by the extraordinary life of Gautam Buddha."
The film festival was organized to coincide with the Vesak festival in New Delhi
The Hindu further said, "According to the 63-year-old Sinhalese director, his debut feature film titled Abinikmana  will be released commercially in his motherland and other countries in August this year. He is overwhelmed by the response it received at the five-day "The Inner Path: A festival of Buddhist films, exhibitions, philosophy, performances" which was held at Indian Council for Cultural Relations here".
"Hector's debut production filmed in just a fortnight highlights the challenges faced by a monk. The one-and-a-half-hour Sinhalese film has been produced by Sarath Subasinghe, Nimal Chandrasiri, Ruwan Dinesh and Rajitha Wijerathen, who decided to put their money on a script that had a human touch. The film was produced with a budget of Rs.50 lakh.
"My film basically revolves round the life of a Buddhist monk who is known as Buddadassi . A serious practitioner of Buddhism, Buddadassi is forced to discontinue his spiritual journey when he discovers that his parents are seriously indisposed. So he is left with no alternative but0 to return home to provide succour to his ailing parents," says Hector. "Meanwhile, his father passes away and he feels lonely. But he returns to the monastery."
"Through his first venture the director has showcased that a monk who is not supposed to cross the four walls of the monastery is forced to return home because there is no one to look after his sick parents.
"Hector has appealed to the young generation to take care of their parents when they grow old. He rues that youngsters in Asian countries are increasingly abandoning the elderly who are forced to live either independently or at age-old homes."