TNA seeks India's help for 'corrective steps'
Posted by Editor on January 17, 2012 - 10:00 am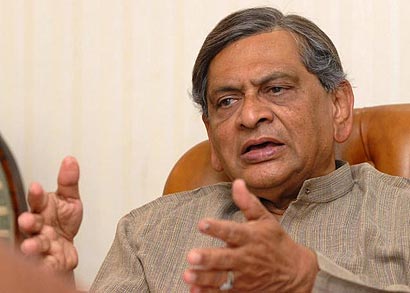 Tamil National Alliance, an umbrella group of Tamil political parties, today complained to External Affairs Minister S M Krishna's about Lankan government's "lethargic" attitude in talks for evolving a political solution to the ethnic crisis and sought India's help for "corrective steps".
A delegation of leaders of TNA led by its Parliamentary Party Chief R Sampanthan met Krishna, who arrived here on a four-day visit, and said "no progress" has been achieved during the dialogue that the group has been holding with the Sri Lankan Government for the past one year.
Sources said the Minister assured the delegation that India is firmly committed to ensuring political settlement, including devolution of powers, to address the aspirations of Tamil community and will discuss the matter with the highest levels of the Sri Lankan government.
During a 45-minute meeting, the TNA leaders told Krishna that India should play an "active role" in taking the process forward to arrive at a political solution to the decades-old ethnic problem.
"The talks with the Indian Foreign Minister were cordial. We briefed him about the talks we have been holding with the Sri Lankan Government. We can't say that any progress has been made in the past one year and this is because of the lethargic attitude being adopted by the government here," Sampanthan said after the meeting.
He said Krishna gave a patient hearing to them and said India would take everything into consideration.
During its talks with the Lankan government, the TNA, which has emerged as the main political force representing the Tamils especially after the 2010 Parliamentary polls, has been demanding that police and land powers be vested with the provincial government as envisaged by the 13th Amendment.
However, the Lankan government has rejected the demand.
Sampanthan said the delegation also told the Indian leader that some "collective action" is needed in evolving a political solution that is acceptable to the Tamil-speaking people of Sri Lanka.
Sampanthan said India is keen to ensure that Tamils in Sri Lanka live with "self-respect and dignity" and that the delegation asked New Delhi to play its role to achieve that goal.
"We also impressed upon the Indian side that corrective steps needed to be taken if the talks have to be set on proper course," he said.
Later, Krishna also received a delegation from the Sri Lankan Muslim Congress, which represents Muslims who speak Tamil who briefed him about the current political situation in the country, PTI reports.
Courtesy: Ada Derana
Latest Headlines in Sri Lanka