Truce between Buddhika and UNP
Posted by Editor on January 17, 2012 - 1:00 pm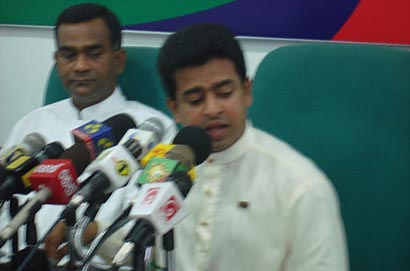 UNP MP Buddhika Pathirana whose party membership was suspended after being at logger heads with the party hierarchy had come to a truce with the party, General Secretary Tissa Aattanayake said today.
Mr. Attanayake told a news conference today that he has had a discussion with Mr. Pathirana and had come to an agreement. He said this agreement should be approved by the working committee of the party. Mr. Attanayake however did not elaborate on the agreement.
Meanwhile the UNP General Secretary denied reports which said that he (the General Secretary)  had requested the party members and other associates of the party not to attend a get together organised by Kurunegala District MP Dayasiri Jayasekera. According to the reports, the request had been made in writing. He said a police inquiry would be held on this issue as the likely position is that some interested party had forged his signature. Mr. Attanayake said he had sent a copy of this letter which he received from Mr. Jayasekera to the IGP.
He also denied the reports that a disciplinary inquiry would be held against Mr. Jayasekera. "No such decision was made at any time nor did we discuss such a matter at the working committee meeting on Monday," he said.
However he said action would be taken against anyone who does not adhere to the order made by the party leader Ranil Wickremesinghe according to section 7.3 of the party constitution. According to these orders every member has to emphasise the party's cohesiveness and political line. In addition, no one would be allowed to function on their own and organise meetings and other functions.
Courtesy: DM Online
Latest Headlines in Sri Lanka