TNA should honour the promises made to Northerners – Minister Devananda
Posted by Editor on September 24, 2013 - 9:14 am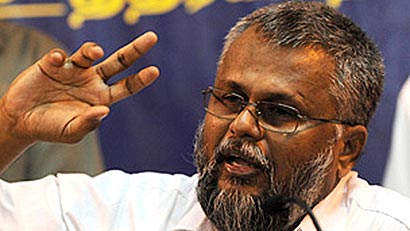 Douglas Devananda, Minister of Traditional Industries and Small Enterprise Development and Secretary General of the EPDP said that the Tamil National Alliance having accepted the mandate received from the people at the Northern Provincial Council election should honour the promises made to the Tamil speaking people, and in such an event he too is agreeable to accept it for everlasting happiness and well being of the people of the North.
Expressing his views to the media, the Minister further stated that he wishe to extend his sincere thanks to all those who exercised their franchise which was a democratic right of an individual and was made possible due to the conducive environment the Government had created for conducting the election in an honest and just manner. He also made it a point to thank those who had voted for the candidates fielded by his party and the UPFA relying on their manifested policies. He also stated that in his election campaign he promised the people that the Government would resort to action to protect and establish the powers of the Provincial Council through a pragmatic course of action and at the same time to attend to the development of the Tamil speaking people, resettlement, development of livelihoods and right to life, in the event the UPFA was voted to power.
The Minister also stated that this time too, majorly of the Tamil speaking people were cheated by the Tamil National Alliance, to the effect that, if they were voted to power they would send out the Army from the North and resettle the people where the camps were now located, develop the North to an extent that they could be proud of and obtain their political rights as well. Judging from their past performances the Minister said that it would not be possible for them to achieve any of these.  The Tamil National Alliance should make it a point to fulfill all the promises they made to the people to receive their mandate without any waste of time. In the event they cater  to all what they promised to the people he would  be too glad to accept the mandate given to the Tamil National Alliance for  long lasting happiness and well being of the people of the North, emphasized the Minister.
(Courtesy: Government News Portal)
Latest Headlines in Sri Lanka