TNT heavier than WTC bomb found
Posted by Editor on September 14, 2013 - 7:15 am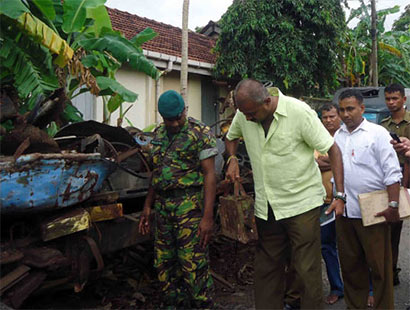 One hundred and twenty kilos of TNT had been found on Thursday, hidden in the chassis of a lorry parked near the Kotahena police for the past 17 years.
The bomb that the LTTE exploded at the Galadari Car Park, targeting the World Trade Centre (WTC) in Colombo, was in comparison only 75 Kg in weight.
OIC of the Kotahena police, Chief Inspector Hemantha Owitigama yesterday told The Island that the lorry had been taken into custody some 17 years back and several bombs, attached to other parts of the vehicle, had been found then.
The then officer in charge of the Kotahen police was able to recover 75.5 kilos of TNT explosives, mainly from a secret compartment in the fuel tank of the vehicle. It had been stuffed in six boxes. It had been recovered with the assistance of army bomb disposal unit, CIS Owitigama said.
However, the army bomb disposal unit failed to detect the 120 kilos of TNT at that time. Thereafter, the lorry was left parked near the police station as it was a production in a case filed against its owners. CI Owitigama said the case was handled by the Criminal Investigation Department and all the accused had been acquitted by Court. The lorry had been left to the elements for 17 years and the Court had finally ordered what remained of the vehicle be auctioned in December.
CI Owitigama said that he decided to shift the partly rusted lorry to another location near the police station, to facilitate its auction. The lorry was parked for long years behind the police station in a land belonging to Prince College, Kotahena. OIC Crimes, of the Kotahena police, Kosala Nawaratne had made a request to the Court for the removal of the rusting vehicle from the school premises.
When the lorry was lifted by a forklift to move it, the chassis had given way revealing the lethal consignment inside. There had been 12 iron boxes containing 10 kilos of TNT in each. Police had summoned the army bomb disposal unit which recovered detonators and wires along with the explosives.
Police spokesman SP Buddhika Siriwardana told The Island that the lorry had been taken into custody, on a tip-off, on February 12, 1996, when it was parked in the land of the Sama Viharaya on Bloemendhal Road, Kotahena for two weeks without any one's notice.
Police believed that the stock of explosives had been smuggled into Colombo by the LTTE with the intention of using it to carry out a massive attack.
A court order would be sought to destroy the explosives, SP Siriwardana said.
(Courtesy: The Island)
Latest Headlines in Sri Lanka