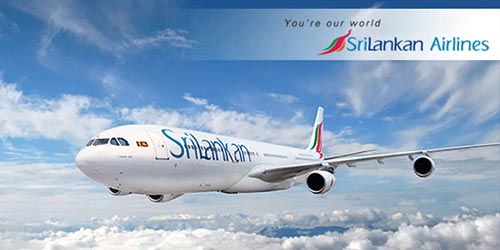 Private equity firm TPG and fund company BlackRock Inc (BLK.N) are among half a dozen firms which have shown preliminary interest in a 49 percent stake in loss-making SriLankan Airlines Ltd, people familiar with the matter said.
They said Sri Lanka is looking to sell the stake in the national carrier along with management control.
The restructuring is part of a broader move by the government to reduce support for state-owned firms and cut debt.
In July, a unit of state-run National Savings Bank, the lead manager overseeing SriLankan Airlines' revamp, invited offers from strategic investors who would assume responsibility for turning around the airline and its budget subsidiary Mihin Lanka.
A senior Sri Lankan finance ministry official said TPG and BlackRock were the two top international firms among the bidders. He declined to be identified as the bids are still being evaluated.
"The government is looking at someone to solve the airline's struggles," said another source familiar with the matter, who declined to be identified as they were not authorized to speak to the media.
BlackRock and TPG declined to comment. It was not immediately clear who the other bidders were.
BNP Paribas and KPMG are the financial and transaction advisors on the airline's restructuring.
SriLankan Airlines was a profitable 10-year joint venture with Emirates Airline until the pair split in 2008.
Subsequent mismanagement left the airline saddled with debt of around $3.25 billion, according to Prime Minister Ranil Wickremesinghe.
"The expectation from the partner is capital. If you keep the debt out, it will have a positive valuation," Suren Ratwatte, CEO of SriLankan Airlines told Reuters on Wednesday. He declined to go into details.
According to the sources, the government has indicated it would take on a substantial portion of the debt.
They said the government is expected to draw a shortlist and pick a final bidder in the next couple of months. It was premature to estimate the potential value of any deal, they added.
SriLankan Airlines has attractive routes to India and analysts have said potential investors could be drawn to the prospect of turning around the carrier, which has about 21 leased Airbus planes.
Srilankan Airlines reported a net loss of 16.33 billion rupees ($112 million) for the year to March 31, narrower than its 31.4 billion rupees a loss year earlier on lower oil prices. It last made a profit in 2009, a year after Emirates sold its stake.
Ratwatte said the partner will have to decide on any lay offs among the 7,000-strong staff.
(Source: Reuters – By Anshuman Daga and Shihar Aneez)