Traffic jam in Fort due to protest
Posted by Editor on December 13, 2011 - 10:52 am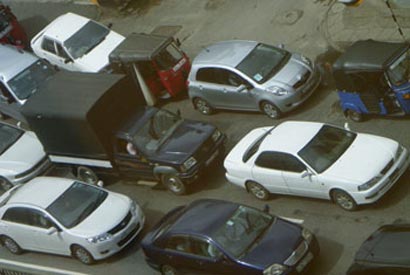 Traffic jam reported from the Colombo Fort area due to a protest campaign launched by traders of the Manning Market against the new regulations on transportation of vegetables and fruits.
On December 11, 40 lorries were apprehended by the investigating officers of the Consumer Affairs Authority at Hanwella and Peliyagoda for transporting vegetables and fruits without using plastic containers.
The Ministry of Co-operatives and Internal Trade stated that raids commenced against transporting of vegetables and fruits in packaging other than the plastic containers introduced by the Ministry.
The raids were carried out in five locations in Paliyagoda, near the Kelaniya Bridge and the Hanwella area.
According to the new regulation, those individuals found guilty are to be fined up to Rs 10,000 each while the fine for an institution could go up to Rs 100,000.
The Ministry of Co-operatives and Internal Trade made transporting vegetables and fruits in plastic crates mandatory from Sunday midnight saying that a large percentage of vegetables were wasted due to improper use of packaging in delivery.
The ministry said Sri Lanka loses more than Rs.20 billion per year due to improper packing methods used in transportation.
Courtesy: Ada Derana
Latest Headlines in Sri Lanka