Turmoil in Sri Lanka as ex-president Rajapaksa sworn in as PM
Posted by Editor on October 27, 2018 - 7:52 am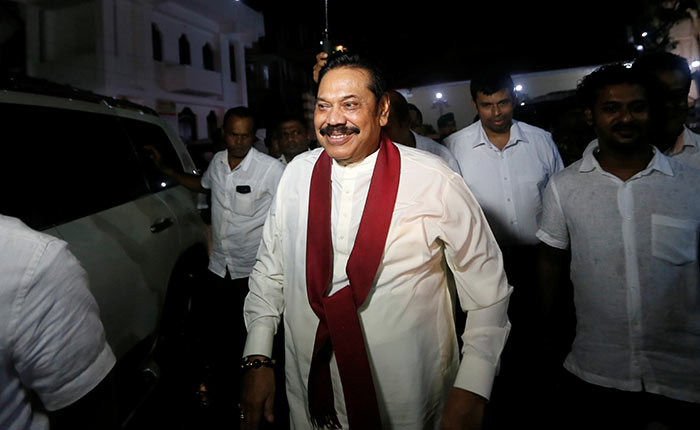 Sri Lankan opposition leader Mahinda Rajapaksa was appointed prime minister on Friday after President Maithripala Sirisena dismissed the incumbent in a surprise move that threatens political turmoil in the South Asian country.
As president, the pro-China Rajapaksa ushered in billions of dollars of investment from Beijing to help rebuild the country following the end of a 26-year-long civil war against Tamil separatists in 2009.
But that investment has since put the island nation deep in debt and forced it to hand over control of a strategic southern port to China – seen as part of Beijing's Belt and Road initiative – drawing criticism from India and the United States.
Following months of infighting, Sirisena administered the oath of office to Rajapaksa after sacking premier Ranil Wickremesinghe, who was away touring the south of the country.
But Wickremesinghe later told reporters he remained the country's prime minister.
"I have the majority and I remain as the prime minister and I will function as the prime minister," he said.
Rajapaksa later said "the people" had requested his party take over the government and called on Wickremesinghe's supporters to respect democracy and the rule of law.
Mark Field, British Minister of State for Asia and the Pacific on Twitter called for all parties to ensure that the constitution is respected, while the U.S. Embassy in Colombo called on all to refrain from violence and follow due process.
Sirisena later issued an official gazette notification that declared the removal of Wickremesinghe and appointment of Rajapaksa.
Under Sri Lanka's constitution, modeled on the French system of government, the president has executive powers while the prime minister heads the parliament.
There was no immediate reaction from India which has long seen Sri Lanka, located just off its southern tip, as part of its area of influence and had been concerned about Rajapaksa's wooing of China. In recent weeks, both Rajapaksa and Wickremesinghe visited India and met with Prime Minister Narendra Modi.
Underlining the risk of chaos, where the government had been under pressure over a misfiring economy, Media and Finance Minister Mangala Samaraweera said on Twitter that the appointment of Rajapaksa as prime minister was a violation of the constitution, which was amended in 2015 to curtail the powers of the president.
"This is an anti-democratic coup," Samaraweera tweeted.
State-run Rupavahini briefly went off-air when three ministers, including Samaraweera and Cabinet Spokesman Rajitha Senaratne, tried to address the nation during a live television program.
Earlier Sirisensa's United People's Freedom Alliance (UPFA) had said it would quit the ruling coalition, capping months of rising tensions between the president's bloc and Wickremesinghe's centre-right United National Party (UNP).
UPFA lawmaker Susil Premajayantha told reporters that a new cabinet would be sworn in soon.
Sri Lanka's $87 billion economy has been under pressure in recent years, with growth last year slowing to a 16-year low of 3.3 percent due to tight monetary and fiscal conditions, droughts and floods.
PLOT THICKENS
The ruling coalition had been further strained in recent days by strong criticism from Sirisena and his allies that ministers from Wickremesinghe's party did not act properly in investigating an alleged assassination plot against the president and former Defence Secretary Gotabaya Rajapaksa, the new prime minister's younger brother.
The alleged plot briefly threatened to cause tension between Sri Lanka and India, after a report that Sirisena had accused India's intelligence services of involvement – a claim that New Delhi and Colombo have both denied.
Sirisena, along with some UPFA lawmakers including from his centre-left Sri Lanka Freedom Party, formed a coalition government with Wickremesinghe's UNP soon after Sirisena unexpectedly defeated former ally Rajapaksa in a presidential election in January 2015.
The UNP and UPFA, an alliance of several political parties, consolidated their coalition after a parliamentary election in August 2015.
But both coalition partners suffered heavy defeats in local elections in February this year to a party backed by Rajapaksa. Sirisena loyalists backed a no-confidence motion in April against the prime minister, who survived after a majority of legislators voted to support his coalition government.
In early September, Rajapaksa had led thousands of opposition demonstrators who blocked a main road in Colombo in protest at economic hardship and the delaying of provincial polls.
(Reuters)
Latest Headlines in Sri Lanka