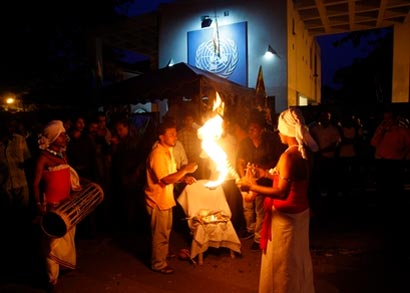 The Hindu – B. Muralidhar Reddy – (Pic by AP)
COLOMBO: The United Nations on Wednesday strongly objected to Tuesday's protests outside its offices in Colombo by a Cabinet Minister that prevented its staff and visitors from entering or leaving the premises, even as supporters of a coalition partner of the government continued their sit-in for the second day.
The protesters are demanding annulment of the three-member panel of experts constituted by U.N. Secretary-General Ban Ki-moon to advise him on accountability issues relating to alleged violations of international human rights and humanitarian law during the final stages of the conflict between the Sri Lankan forces and the LTTE.
The government, which has denounced the U.N. panel as interference in its internal affairs, defended the activists of the party led by Housing Minister Wimal Weerawansa.
In a statement it said authorities dealt with the protest in compliance with both domestic and international obligations.
On Wednesday the U.N. shut down its office and asked its staffers to operate from their homes till further orders.
The protesters have vowed to continue unless Mr. Ban withdrew the experts' panel. A number of protestors have lodged themselves in a make-shift tent outside the U.N. office.
"While respecting the right of citizens to demonstrate peacefully, preventing access to U.N. offices hinders the vital work being carried out by the United Nations each day to help the people of Sri Lanka," U.N. spokesperson Farhan Haq told reporters in New York.
In its statement, the government said Sri Lanka being a democratic society had to respect the entitlement to voice opinion, including through peaceful demonstrations.