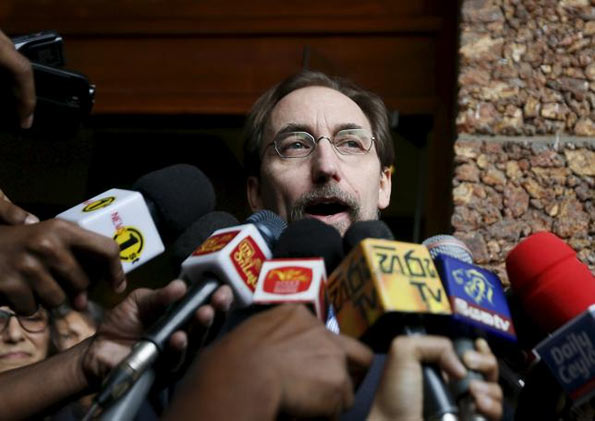 The United Nations human rights chief on Sunday traveled to the north and east of Sri Lanka to assess the country's progress in prosecuting alleged war crimes.
Zeid Ra'ad Al Hussein is the first senior U.N. official in two-and-a-half years to visit the northern conflict zones of the island's 26-year war which ended in May 2009.
The coalition of President Maithripala Sirisena, who was elected last year, has agreed to a U.N. resolution that called for post-war reconciliation and an investigation of all alleged war crimes.
Zeid began his four-day official visit to Sri Lanka on Saturday, after comments by President Sirisena that foreign participation was not needed for an impartial inquiry into the war.
In a tight visit to the northern town of Jaffna, Zeid met relatives of people who disappeared during the war between government forces and Tamil Tiger guerrillas.
When relatives gave a document to him on the abductions of their family members, the U.N. human rights chief said: "I already know your problems."
After meeting the chief minister and governor of the northern province, Zeid said the discussion was focused on the people who "aspired to see more information of those detained and those missing". The number of people who have disappeared is not known.
Ananthi Sasitharan, wife of a rebel leader missing since he surrendered to the army on May 18, 2009, said that many people were disappointed because he spoke only to eight people, with just minutes per person.
"We told him that we've lost confidence in the government because nothing has changed. The only option we have is justice through an international mechanism," she told Reuters.
The U.N. says both Sri Lanka's military and the Tamil Tiger rebels most likely committed war crimes during the war.
Many Sri Lankans oppose foreign involvement and supporters of former president Mahinda Rajapaksa believe the U.N. resolution on the need to investigate war crimes aims to punish the military unfairly.
On Saturday hundreds of hardline nationalists protested in Colombo against Zeid's visit.
(Reuters)