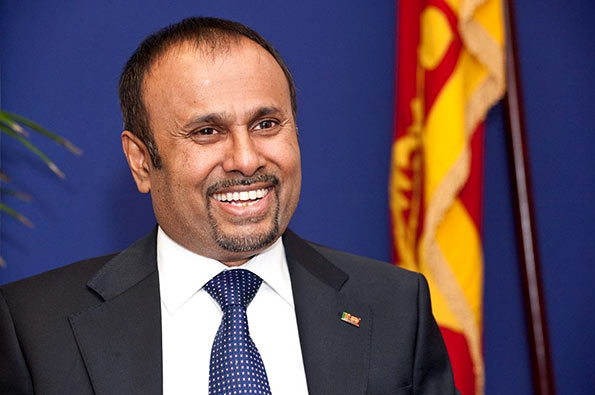 Sri Lanka's former Ambassador to Russia, Udayanga Weeratunga, says the Yahapalanaya government is trying to foist allegations of "acquiring properties illegally" against him as a ploy to eclipse the truth at a time an election is around the corner.
"I purchased these assets legitimately with funds I earned and deposited to my NRFC account during the 32 years I lived overseas", he asserted in a media statement.
He claimed that he deposited the foreign exchange with the approval of the Central Bank during this period, but on April 29, 2015, these legitimate accounts were frozen by the Central Bank without even a court order. This was confirmed by the directions given in connection with case No. B/639/15 on January 4, 2017.
Weeratunga said that over the past three years his bank accounts were examined and the allegations of acquiring property through illegal means are being unfairly levelled against him when he had even included these properties in his declaration of assets.
"I don't want to hide assets I have declared annually. I have been made a 'victim' by the government and in this environment, it is my advice to others also not to fall prey to these machinations by either depositing their funds earned overseas in banks or investing them", he said.
Warning that this is one clear indication of how a 'police state' is taking shape in Sri Lanka, the former envoy appealed to the people to make use of the February 10 local polls as an opportunity to express their opposition to this dangerous trend that's evolving.
On the MIG deal, he asserted that he was not in Sri Lanka at the time the agreement was signed and immigration and emigration department records will bear testimony to this. "However, due to false claims that I came to the country and returned with the signature of the (then) Air Force Commander, I have been named a suspect in the case".
He claimed that the agreement was signed in the embassy premises by the deputy director of the Ukraine company, while the Air Force Commander at the time signed on behalf of the Sri Lankan government.
"I didn't sign the agreement and the responsibility for doing so should be borne by the Commander and his officers. However, in its bid to shield bond scam rogues, the government seems to be more interested in a witch hunt to take political revenge", Weeratunga further asserted.
(Source: The Island)