UN warns Sri Lanka to protect staff
Posted by Editor on April 19, 2011 - 1:01 pm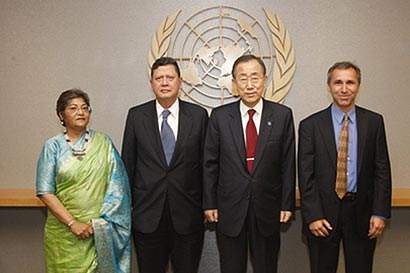 UNITED NATIONS (AFP) – The United Nations on Monday warned the Sri Lankan government that it must protect UN staff, after the country's president called for protests against a UN war crimes report.
President Mahinda Rajapakse has called for this year's May Day rally to be turned into a "show of our strength" against international calls for a war crimes investigation.
"We have made it very, very clear to the government of Sri Lanka that we take it very seriously that they ensure the security and safety of UN staff in Sri Lanka," UN deputy spokesman Farhan Haq said.
"We have underscored that again and we want to make sure that regardless of what their positions are on the report that they abide by their obligations to the security of our staff," Haq told a press briefing.
The report by UN experts into alleged war crimes committed during the fight against Tamil Tiger rebels, which ended in 2009, is to be officially released by the United Nations this week.
Details of the report were leaked to a Sri Lankan newspaper and published at the weekend. It says there were "credible" allegations that Sri Lanka committed war crimes and crimes against humanity in its final 2009 offensive against Tamil Tiger rebels.
The government has already called the study "flawed" and "biased."
Haq said the details released by The Island, a pro-government newspaper, were accurate but an "incomplete" account.
"I do not know who leaked the report. It did leak to a Sri Lankan newspaper and it did leak shortly after we gave the report to the government of Sri Lanka but I do not know definitively who it was who turned this over," Haq said.
"Whenever we share a communication with a member state there is an understanding that it will not be leaked," he added.
The UN report said "tens of thousands" of people died between January and May 2009 in the final offensive that resulted in the defeat of the Tigers, ending a decades-old ethnic conflict which had claimed up to 100,000 lives.
The report said allegations of attacks against civilians demanded a serious investigation and the prosecution of those responsible.
Latest Headlines in Sri Lanka