Undergrads attack Ruhuna VC; Vice Chancellor receives outdoor treatment: Senior Student Advisor also assaulted:
Posted by Editor on October 21, 2010 - 7:53 am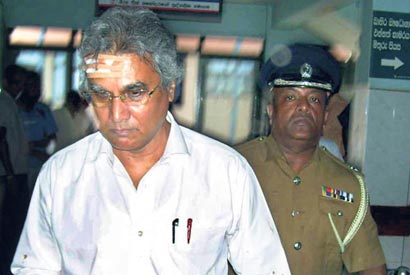 Ruhuna University Vice Chancellor Prof Susirith Mendis was attacked by a group of undergraduates when he went to settle a clash between two student groups of the Humanities Faculty yesterday morning.
The Vice Chancellor who received injuries obtained outdoor treatment from the Matara General Hospital, said a spokesman for the Hospital Police Post.
Senior Student Advisor Saman Chandana who arrived at the scene too had been assaulted by some students.
The Vice Chancellor has made a complaint to the Matara Police regarding the attack.
There has been continuous student arrests in the Ruhuna University within the last few days with students attached to the Inter-University Students Union clashing with members of the Science Faculty Student Union. Seven undergraduates were hospitalised following a clash between two groups Tuesday. Some of the undergraduates attached to the Ruhuna University allege that members of the Inter-University Students Federation were trying to create chaos at the institution and disrupt its smooth functioning.
Higher Education Minister S B Dissanayake said yesterday that disciplinary action will be taken against the undergraduates behind the attack.
He said if found guilty, they will be expelled from the University.
Daily News
Latest Headlines in Sri Lanka