UNP has been united to oust Rajapaksa regime – Ranil
Posted by Editor on December 28, 2010 - 8:36 am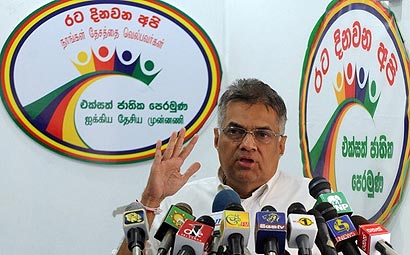 Leader of the UNP Ranil Wickremesighe said yesterday that the party has been united following the recent annual convention and a cohesive unit was in place, to oust the Mahinda Rajapaksa regime before it completes its second term.
Speaking to the media in Colombo,he said that a strong team comprising seniors such as Karu Jayasuriya, Gamini Jayawickrema Perera, Joseph Michael Perera and Tissa Attanayake, ably assisted by youth leaders such as Sajith Premadasa, Ravi Karunanayake and Wasantha Aluvihare, were poised to take on the government and "finish it off " in the new year.
The Rajapaksa regime, has been taken aback by the UNP's new found unity and are scared of being ousted from power, he said.
"The Grama Charika programme,comprising grass roots level meetings and protests was progressing well.On January 26,2011, we will bring a million people to Colombo, to highlight the unbearable cost of living, failure to grant public servants the pledged salary increase and violation of democratic freedoms."
Matara District UNP MP, Mangala Samaraweera said that all attempts by the government to disrupt the UNP's annual convention, had proved futile.
The impact of the massive rally that would be held in Colombo on January 26,he said would shake the very foundation of the Rajapaksa regime and be the launching pad for the installation of a UNP administration.
Courtesy: The Island
Latest Headlines in Sri Lanka