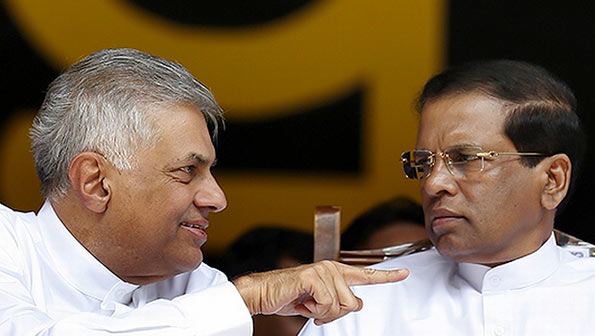 The United National Party led United National Front for Good Governance won the General Election in a convincing fashion, winning 93 out of the 196 seats on offer, polling a total of 5,098,927 votes.
The UNFGG won in many electorates that were UPFA bastions for many years, by huge majorities.
The UNFGG bagged 93 seats, UPFA 83, JVP four, ITAK 14, SLMC one and EPDP one. The Democratic Party of Field Marshal Sarath Fonseka failed to win a seat.
The 15th Parliament will comprise 106 members from the UNFGG with the allocation of 13 slots from the national list, while the number of UPFA members in the new Parliament will also increase up to 95 with the allocation of 12 seats from the national list.
The Ilankai Tamil Arasu Kachchi and the People's Liberation Front will also receive two slots from the national list each. The UPFA won by slim majorities in Gampaha, Panadura, Kalutara and Dambadeniya polling divisions which were won by the party with overwhelming majorities at the last parliamentary election in 2010.
The Divulapitiya electorate was won by the UPFA by a thin majority of 3000 votes.
The UNFGG's victory in the backdrop of a vicious and malicious campaign launched by the UPFA in connivance with other chauvinistic elements, is a clear endorsement of good governance policies of the government transcending political differences.
This historic victory confounded all critics and analysts who predicted a close finish in the Parliamentary race.
The UNFGG won many bastions of the UPFA recording mind boggling majorities. The party managed to comfortably win its long standing pocket boroughs, such as Senkadagala, Mahiyangana and Colombo Central and Colombo city by huge majorities.
The UPFA also lost the Kekirawa electorate which was a stronghold of the party for years, at this election.
The UNFGG increased its vote base greatly in almost all electorates. The Front which was able to secure only two seats with 112,886 votes in the Badulla district at the last parliamentary election in 2010, managed to increase its vote base to 256,844 securing five seats.
The UPFA faced a serious set back in many electorates where they emerged victorious at the last parliamentary election in 2010.
The UPFA which polled 203, 689 votes securing six seats from the Badulla district at the 2010 General election was reduced to two seats with 179, 459 votes.
The election results are a clear endorsement of the government's endeavour to find a long standing solution to the issues of the people in the North and East and promote reconciliation.
It is to the credit of the intelligent voters that they were not swayed by numerous promises and material benefits and were wise enough to understand the dangers inherent in handing over the reins of power to an authoritarian regime with no regard to democratic values and good governance.
(Daily News)