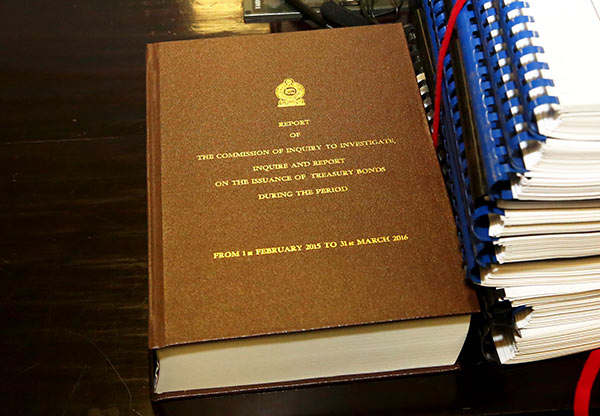 Sections C350 to C360 of the bond commission report which had not been made public thus far, was handed over to the speaker of parliament by the Presidential Secretariat a short while ago.
The contents of the redacted sections are yet to be revealed, however, our correspondent did note that the Speaker is likely to make a statement about the documents at the start of today's parliamentary session.
While the President had made the report public on January 1, 2018, a significant proportion of it was not released.
It is said that Section C 350 – 'Forensic Report on Communication Information Analysis' – contains detailed phone records collected by the CID of conversations between individuals connected to Perpetual Treasuries Limited including its owner Arjun Aloysius and politicians, journalists, religious leaders and civil society members.
A spotlight was shone on the issue when MP Dayasiri Jayasekara, who defected from the Government, revealed that he had received money and that there were 118 others who had also accepted money from the alleged perpetrators of the bond scam.
Various groups including the Campaign for Free and fair Elections (CaFFE) had requested the Speaker and Secretary to the President to release these sections of the report.