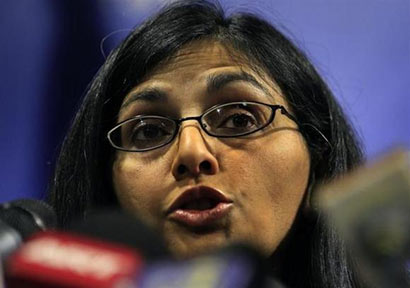 The United States Assistant Secretary of State for South and Central Asia Nisha Desai Biswal is scheduled to visit Sri Lanka on an official tour. She will arrive in the island on Sunday (February 01).
During her visit to Sri Lanka Biswal will meet high level government officials.
After holding initial discussions on post war reconciliation and accountability in Colombo, Biswal is expected to tour the North and hold discussions with members of the Northern Provincial Council and people.
The US Assistant Secretary's visit comes a month prior to the UN Human Rights Council sessions where a report is to be tabled before the Council on the probe on Sri Lanka.
This is Biswal's first visit to the country after the new government of President Maithripala Sirisena was installed earlier this month.
While participating in the Thaipongal celebration held at the Embassy of Sri Lanka in Washington DC on January 14, Biswal expressed the desire of the United States to work together with Sri Lanka and called for forging stronger bonds.
Biswal is to leave Sri Lanka on Tuesday (3) and will travel to the UK.