US envoy to visit north today; US to bring another resolution on Lanka
Posted by Editor on January 8, 2014 - 10:55 am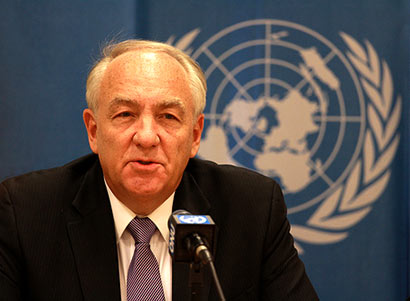 The US Ambassador—at—Large at the Office of Global Criminal Justice, Stephen J Rapp will visit Sri Lanka's war-ravaged north on Wednesday to hold talks with local officials. This is Rapp's second visit to the island and comes ahead of another US—moved resolution on Sri Lanka at the UN Human Rights Council in March.
Rapp, who arrived here on Monday on a week — long visit, will spend two days in the north holding talks with officials and leaders.
US officials said Rapp aims to meet government officials, political and civil society leaders to discuss issues focusing on Sri Lanka's justice, accountability and reconciliation issues.
Two US—moved similar resolutions at the UNHRC and backed by India were adopted at the UNHRC for two years running in 2012 and 2013. Both resolutions called for expeditious action from Colombo to achieve reconciliation with the Tamil minority.
Sri Lanka has resisted such calls, claiming that the island's own mechanisms were sufficient to deal with what is being seen as a domestic issue, the Hindu reports.
Latest Headlines in Sri Lanka