US, Sri Lanka Discuss Measures to Address Abuse Allegations
Posted by Editor on August 25, 2015 - 4:03 pm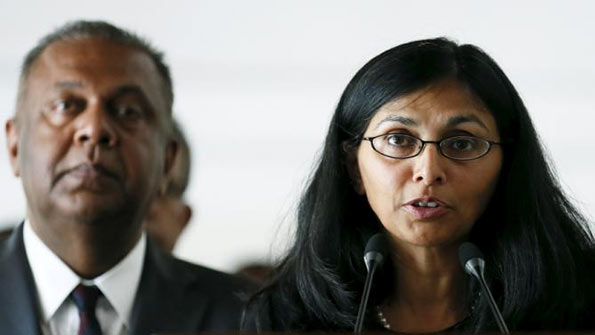 Sri Lanka's foreign minister told visiting American diplomats on Tuesday about steps the island nation is taking to address allegations of human rights violations during its brutal, quarter century-long civil war.
Foreign Minister Mangala Samaraweera met with U.S. Assistant Secretary of State for South and Central Asian Affairs Nisha Biswal and Assistant Secretary of State for Democracy, Human Rights and Labor Tom Malinowski, who are visiting Sri Lanka on Tuesday and Wednesday.
Sri Lanka has faced criticism for failing to properly investigate alleged rights abuses amounting to war crimes during the final phase of the war that ended in 2009 when government forces defeated Tamil Tiger rebels, who had been fighting to carve out a separate state for ethnic minority Tamils.
A United Nations report has said up to 40,000 civilians may have been killed in the last month of the war. Rights groups and some governments have urged that an international investigation be undertaken, but Sri Lanka has resisted and instead says it would address the concerns through a domestic mechanism.
The U.S. has been in the forefront in demanding probes into the abuse allegations and the ties between the countries were strained over former President Mahinda Rajapaksa's reluctance to investigate the thousands of reported civilian deaths in the final months of the war.
But bilateral relations have improved since President Maithripala Sirisena was elected in January. To promote national reconciliation, Sirisena has started releasing private lands occupied by the military during the civil war in the northern region where civil raged.
The government has also started investigations into the killing of journalists and civilians by para-military groups, and some military officers have already been arrested in relation to this.
During the discussion with Biswal and Malinowski, Samarweera said he "outlined measures being taken to address concerns regarding alleged human rights violations including through independent domestic mechanisms."
The U.S. sponsored a resolution at the U.N. Human Rights Council last year calling for an investigation into war crimes allegations, and a report from the probe was scheduled to be released in March, but that has been postponed until September.
A visit to Sri Lanka by U.S. Secretary of State John Kerry in May, the first such trip by a U.S. secretary of state in a decade, also has helped warm ties between the countries.
On Tuesday, Biswal said that since Kerry's visit Sri Lanka made a "tremendous momentum of progress" toward good governance, combating corruption and promoting reconciliation and added that U.S. was ready to work closely with the new government.
Biswal is also scheduled to meet Sirisena and new prime minister Ranil Wickremesinghe during the visit.
(AP / Pix by Reuters)
Latest Headlines in Sri Lanka