Use army chief's Sri Lanka visit to end fishermen's issue: DMK
Posted by Editor on December 1, 2015 - 10:16 am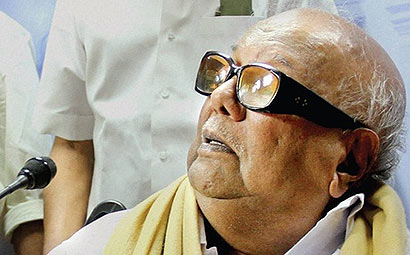 DMK chief M. Karunanidhi today urged the Indian government to get in touch with the Army Chief General Dalbir Singh Suhag, now in Sri Lanka, to facilitate talks with that government so as to end problems faced by Indian fishermen.
"Indian Army chief Dalbir Singh has gone to Sri Lanka on a four-day visit. The Centre should get in touch him and talk with that government immediately to end the continuing problems of Indian fishermen," he said referring to yesterday's arrests of Tamil Nadu fishermen.
Yesterday, hours after the Sri Lankan Navy arrested eight Tamil Nadu fishermen and their two boats, Chief Minister Jayalalithaa had urged Prime Minister Narendra Modi to secure the release of a total of 37 fishermen and 55 boats, including those held on November 29.
"The arrest of fishermen by Sri Lanka and subsequent letters by Tamil Nadu Chief Minister Jayalalithaa to the Centre have become a continuing tale and yet there is no end to the violent incidents (arrests)," he said.
Citing the proposed indefinite strike by fishermen if "the State and Central governments did not take steps to secure the release of fishermen and their boats" in Sri Lankan custody, he said, "I urge the Centre again and again to take immediate action to end the fishermen's problems."
In a resolution, Rameswaram fishermen have decided to go on an indefinite strike from December 4 and stage a protest in front of Parliament by getting the support of all political parties, he said. – (PTI)
Latest Headlines in Sri Lanka