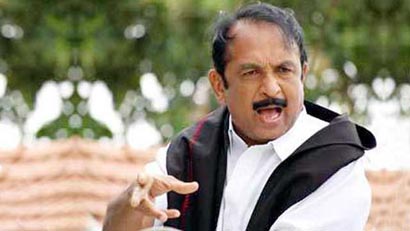 Opposing the gifting away of an Indian Coast Guard ship to Sri Lanka, Indian MDMK chief Vaiko today said it was a "betrayal" of Eelam Tamils and Tamil Nadu fishermen the Press Trust of India reported.
Indian Coast Guard Ship 'Varaha' was gifted to Sri Lanka on August 27 in Colombo. The ship was in the service of the island nation since 2006 and it was rechristened 'Sagara' by Sri Lanka.
It was formally handed over at a ceremonial function in the presence of Indian and Sri Lankan top officials, according to the island nation's official website.
Referring to the hand over, Vaiko said "this is an unforgivable betrayal of Eelam Tamils and Tamil Nadu fishermen by the Indian government."
Alleging that the ship was "used for killing Tamils in Sri Lanka", he claimed "the vessel is an evidence of the use of Indian Navy to finish off the Sea Tigers by Sri Lankan Naval forces."
Accusing the UPA-I and its constituent parties from Tamil Nadu the DMK and PMK of being responsible for the large scale killings of Tamils during the 2009 war, he accused the Indian goverment of continuing to work against the interests of Tamils.
Opposing the gifting of ship which he termed "unacceptable," PMK chief Ramadoss said "the ship is going to be used against Tamil Nadu fishermen."
"Sri Lanka is never going to be of help in India's defence," he said here in a press release and wanted the Centre to take back all three ships gifted so far to Sri Lanka including 'Varaha.'
(PTI)