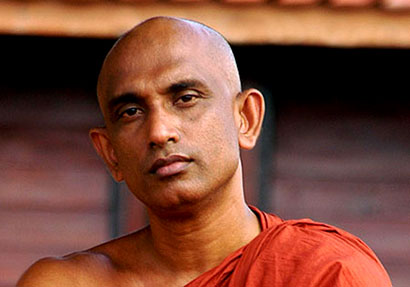 Senior consultant to the President and MP Ven. Athuraliye Rathana Thera said he has set up a 'National Council' with the participation of people from all walks of life – especially professionals, intellectuals and academics.
"The national council will be the alternative Parliament in Sri Lanka. Anyone can join this council," the Thera said. "I will lead this council which will tell the country where it should head.  It will support any force or regime which takes the country on the right path," he said.
Addressing a press conference at the Sri Lanka Foundation Institute in Colombo yesterday, he said he can be the senior consultant to the President and at the same time criticise the government.
"This is the new political culture. A National Movement can take any government in the correct track," he said.
The thera said he and Minister Patali Champika Ranawaka may have different ideas on the economic policy but there was no discussion on this.
The MP also said the council will be a free entity from the prison of party politics.
"It will never be a political party. There is no need to topple the government. It can be taken in the correct path. We tell the President to keep his promises and do what he promised to do to the people through 'Maithree Paalanayak'. The Joint Opposition which does not have any political vision does not have a future," Ven. Rathana Thera added. He said his main intention is to build a national movement to guide this and all future governments on the correct path. "I will also never form a political party," Ven. Rathana Thera said.
(Source: Daily News)