Veteran Photographer Gunasiri Silva passes away
Posted by Editor on March 9, 2011 - 7:45 am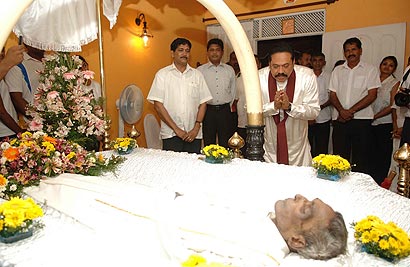 Onlanka News – By Janaka Alahapperuma
(Pix by: Chandana Perera)
Veteran photographer Mr. Gunasiri Silva whose photographs turned up in news papers, magazines and even national media outlets for many decades has passed away in the early hours on Monday 07 March after a brief illness at the age of 76. Mr. Gunasiri Silva began his career with the "Eththa- (Truth)" newspaper and he also served as a provincial photographer for the Lankadeepa newspaper.
During this time as a freelance photographer Gunasiri Silva was the personal photographer to prominent political leaders including Dr. N.M. Perera, Dr. Colvin R de Silva, Bernard Soysa and Ranasinghe Premadasa. Mr Silva started to serve late President Ranasinghe Premadasa while he was a local councilor at Colombo Municipal Council in the early days of his political career. Later he joined the Government Media Unit and served as the personal photographer to the late President Premadasa during his tenure as the Prime Minister.
Mr. Silva was the still a photographer in films such as Sakuntala, Hariyata Hari, Singapore Charlie and Kokila. In addition, he had photographic studios named 'Gunasiri Photo' at Rajagiriya, Galle Face and Pettah.
When Mr Silva started his career as a photographer in 1960's, technology was not developed, old fashion still cameras were used and they were not sophisticated. Not many professional cameramen were around as well as quality cameras. During that time no one ever dreamt of modern day digital technology. However Mr Silva provided a valuable service to Rajagiriya, Welikada, Sri Jayawardenapura- Kotte and Borella area with his professional camera. He is well known to my parents and has taken their photos as a young couple.
When President R.Premadasa was the Prime Minister and the Minister of Housing Construction and Development, Mr Gunasiri Silva was regular visitor to 'Gam Udava' and other development programmes as a cameraman. Later his sons including Sudath Silva who has served four Presidents of Sri Lanka continuously from R. Premadasa, D.B.Wijetunga, Chandrika Kumaratunga to the present President Mahinda Rajapaksa as their official photographer, started to follow their father's footsteps joining Gam Udava and projects carried out by President Premadasa. As young cameramen, they also served Mrs Hema Premadasa too.
When Colombo city was developed specially the Kehelwatta area, the then Prime Minister offered a place for Gunasiri Silva to start up a new studio in the newly build housing and shopping complex at the Sangharaja Mawatha round-about near A.E.Gunasinghe statue at Pita Kotuwa. I was invited for the opening ceremony of Gunasiri Studio with my brother to witness it. As a young boy I took the138 bus after school from Royal College to Pettah and joined the crowd at the opening ceremony in my school uniforms. Prime Minister R.Premadasa was the Chief Guest. He declared open the studio by taking a photo by himself. It was captured by Mr Silva's camera and that memorable occasion is still hanging on the walls at the entrance of Gunasiri Photo at Pettah. Since then Cameramen from Gunasiri Photo were a common sight at my house when ever we had a function including my wedding in late 90's.
President Mahinda Rajapaksa also paid his last respects to veteran photographer late Mr. Gunasiri Silva, father of Sudath Silva, Media Director and the official photographer of President Mahinda Rajapaksa on Monday 07 March. Pictures are seen here, President Rajapaksa exchanged pleasantries with the family members after paying tribute to the deceased. Secretary to the Media Ministry W. D. Ganegala, Chief of President's Staff, Gamini Senerath were also present.
Shocked family, friends and neighbors told of Mr Silva's passion for life, photography and cameras. Mr Gunasiri Silva is survived by his wife Karunawathi Silva, sons, Sudath, Sarath, Vijith (singer) and daughters, Daya Hemalatha, Ranjani Hemalatha (Sri Lanka High Commission-London) and Chithrani Hemalatha.
The remains will be kept at No. 21B, Anagarika Dharmapala Mawatha, Hokandara Road, Thalawathugoda. The funeral will take place at the Hokandara Public Cemetery on Wednesday 09th March (today) at 4.00 pm.
May He Attain Nibbana!
Latest Headlines in Sri Lanka