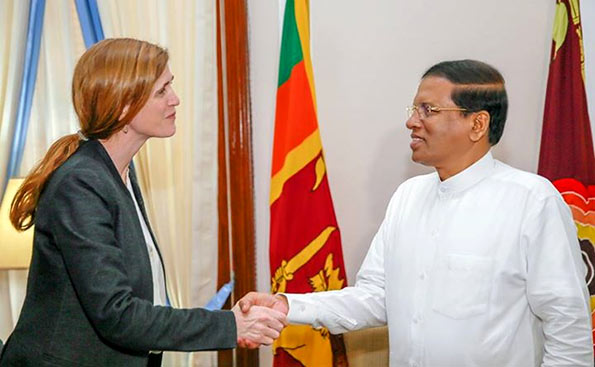 U.S. Permanent Representative to the United Nations Samantha Power commended the commitment of the Sri Lankan government for a sustainable reconciliation during past ten months.
She made these remarks when she called on President Maithripala Sirisena yesterday (Nov. 23) at the Presidential Secretariat.
Ms. Power said the new government is performing in more trustworthy and acceptable manner in implementing of the process of reconciliation. She suggested broadening the relationships between the officials and the institutions who are implementing this program.
She commended the transformations that are being made in the country and stated that there is a new awakening in the country due to those changes.
"It is commendable that the President of Sri Lanka, Maithripala Sirisena is giving up the power while the leaders of Asia and Africa are trying to centralize the power in their hands. This is a worthy example for the world leaders", she said.
Ms. Power stated these new political reforms in the country would definitely result in economic benefits. "Sri Lanka will emerge as a beacon light due to them", she said. She also said the international community is observing the new program of Sri Lanka.
President thanked the US government for the assistance provided for reconciliation process in the country. He further said that the reconciliation process will based on finding the truth, giving justice and ensuring non-recurrence.
The President pointed out here that they have to work with different types of social groups with different ideologies inn this regard and Sri Lanka is a country which faced many challenges. "In that context the government has the responsibility to act patiently," President said.
President apprised the Ambassador regards the steps taken by the government during the past ten months to ensure freedom, strengthen democracy and eliminate poverty.
President Sirisena said that he was able to hand over the power to the Parliament and to the independent commissions which was centered on executive presidency.
He further said that the government will continue to work with commitment to the release of lands in the North and resettlement process for the remaining displaced person as well as the development of those areas.
Foreign Minister Mangala Samaraweera and Austin Fernando- President's advisor on Foreign Affairs also gave a brief description at this event.
Mr. Atul Keshap- U.S. Ambassador to Sri Lanka also participated in this event.
(Government News Portal)