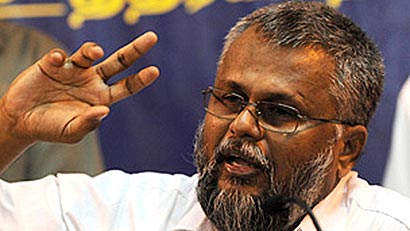 The pressure exerted by the US sponsored resolution adopted at the UNHRC in Geneva  would not be of assistance for a political solution to the Tamil issue, EPDP Secretary  General Douglas Devananda said.
In a statement issued on the US resolution on Sri Lanka he said that instead of a  UNHRC resolution the assistance by the outside world in resolving the ethnic problem  in the country could only serve as that of a midwife.
He added that it is only through dialogue among all political parties representing  Sinhalese, Tamil and Muslim communities that a solution could be found and the rights  of the people could be protected.
The EPDP is embarked on a conciliatory dialogue with the Government for a political  solution to the Tamil people and the upliftment of Tamil people's livelihood, he said.
The resolutions whatsoever adopted abroad would not bring emancipation to our people  and nobody would offer our people their political rights on a platter, rather we  ourselves have to seek the means to resolve our people's problems, he stated. (Courtesy: DM Online)