We will defeat Mahinda – Ajith P. Perera
Posted by Editor on July 9, 2015 - 8:36 am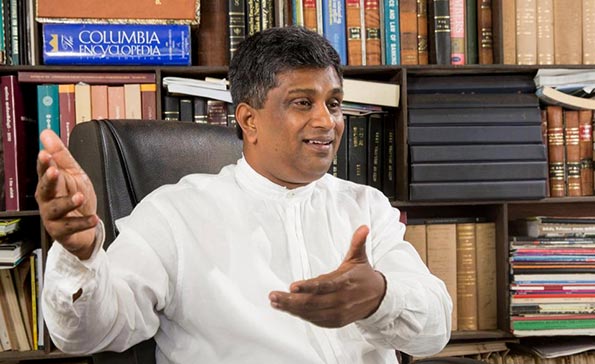 Deputy Minister of Foreign Affairs, Ajith P. Perera says that the United National Party (UNP) will defeat former President Mahinda Rajapaksa once again at the general election: "We would like to explain reality to him."
Excerpts from the interview:
?: Have you achieved the change you expected on 8 January?
A: Yes, most definitely. We reduced the powers of the Executive Presidency in a very strong manner have strengthened Parliament. We have reduced the cost of living, from what it was prior to 8 January. We have reduced the price of fuel. We have created freedom for the people. We have protected human rights. Sri Lanka which was isolated in the world is now friends with everyone and what huge victories they are?
?: Isn't President Maithripala who became the President with the assistance of the United National Party is now disregarding the UNP?
A: No. We do not believe that. Up to now he is working with understanding and with the United National Party. We believe that in the future too he will do the same. As the Chairman of the SLFP he has a different role and as President he has another duty. Although certain problems did occur due to that contradiction, we like Mahinda Rajapaksa contesting the election. We can completely defeat him once again and make him see the reality. Mahinda Rajapaksa who was defeated at the presidential election contesting this election we will be further strengthened in our victory.
?: Is this an effort of Maithripala Sirisena to teach Mahinda Rajapaksa a lesson?
A: I cannot say that. There are times when opportunity is given to one's enemies and they are allowed to contest. Even if Mahinda is there or not; we will win. If Mahinda is there it will result in our election campaign becoming far more active and exciting.
?: The Treasurer of the SLFP also joined the UNP. Will the UNP accept anyone who crosses over from the SLFP?
A: If they do not have accusations of corruption, ethanol or drugs charges against them, we will accept them.
?: Of late, various groups with different ideologies are joining the UNP. How can you go on the same journey with them?
A: We are now in the process of building a broad alliance and it is being done based on policies, and guided by factors of practical politics. We will be able to take this Alliance to victory in the future. We are prepared to go on that journey while protecting the identity of the UNP.
?: Although you are accusing others of corruption, your government has been accused of irregularities regarding the issue of Treasury Bonds. Also wasn't there an accusation that the COPE report which revealed those irregularities was covered up?
A: If it is said that Parliament was dissolved in order to cover up the COPE report, then President Maithripala Sirisena should be working for the UNP. That is not compatible. At one time it is said that Maithripala Sirisena is working for the UNP at another time he was said to be working for his own party. What are these stories? I have to specially mention the fact that there is no COPE report.
?: However, the Prime Minister and the UNP is blamed for having appointed Arjuna Mahendran to the post.
A: No one can accuse him. He was appointed according to the professional talents he possessed. There is no evidence that he committed an offence personally. The son-in-law of Arjuna Mahendran was a shareholder of a company which purchased the relevant Treasury Bonds. Although there was some suspicion regarding their behaviour where the activities of the company was concerned, it has not been proven that Arjuna Mahendran has committed an offence. Prior to this, bonds have not been auctioned in this manner. We are the people who are talking about this transparency. Previously there was no transparency at all and they were sold directly to friends.
?: Although there were accusations of there being those involved in drugs and ethanol in the Mahinda Rajapaksa Government; none have been punished. Why is that?
A: In our country's history never have cases been heard in six months and the verdict given. Cases cannot be heard and concluded in a day or two. It takes years to hear a case. Just because bail is granted does not mean that those persons are freed. It is just that it has not been proven yet. No one can say that, just because they did not go to prison, that they have not been involved in theft. Mahinda Rajapaksa himself said he had committed wrongs, he had helped wrongdoers and that he released offenders. What more is there to hear cases on?
?: Is it not possible to take legal action based on those statements?
A: We will take action against him. However, it is the Police who have to take legal action based on those statements. I do not believe that, legal steps will be taken, based only on such public statements. What the people want is to quickly send Rajapaksa to prison. But we do not like unnecessary haste. Investigations have to be conducted properly and only then will the required steps be taken. We do not want to do what Rajapaksa did to Sarath Fonseka.
(Source: Ceylon Today)
Latest Headlines in Sri Lanka