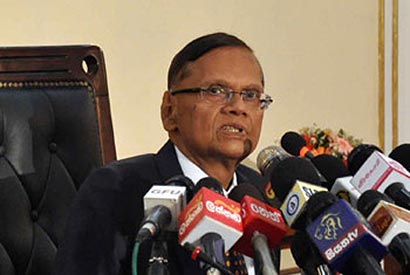 Former External Affairs Minister, Prof. G.L. Peiris had written to the religious leaders including the Mahanayaka Theras informing them on the UNHRC resolution on Sri Lanka and requesting them to intervene to reject the resolution from being implemented.
At a news conference held in Colombo yesterday (20) he said the UNHRC can only stress on violations of human rights but it cannot make a country to create political reforms or intervene into other internal matters.
"If the mandate of the UNHRC is to make us do what they think is best, then what is the point of having a parliament in the country? " he asked.
He said the UNHRC has recommended through the resolution to abolish the Prevention of Terrorism Act (PTA), to appoint a special Court to hear alleged war crimes charges, to take measures for power devolution including land reforms, to decrease the role of army in the North and to regulate retrospective laws, which are against the mandate of the UNHRC.
He said the intervention of foreign judges and prosecutors in the proposed war crime court, special office with foreign specialists to file indictments and proposed administrative investigations into security forces personnel even without charges cannot be accepted.
"However, the government has co-sponsored the resolution with the US without opposing it. It has accepted the charges levelled through the resolution. The UNHRC Chief also said that the resolution is a rather unique' one as no country had backed such resolution in history. This decision of the government had also put the countries who had voted in favour of us at previous sessions in a difficult situation," he said.
He also said, now, the UNHRC has proposed for special criteria when deploying Sri Lankan security forces personnel for UN peacekeeping forces.
Meanwhile, President's Counsel Manohara de Silva charged the government decision not to publish Paranagama and Udalagama reports at UNHRC, was due to the objection of the TNA.
(Daily Mirror)