WHEN TIGER ASSETS ARE CONFISCATED, INCREASING SALARIES IS NOT DIFFICULT: RANIL
Posted by Editor on December 22, 2010 - 3:51 pm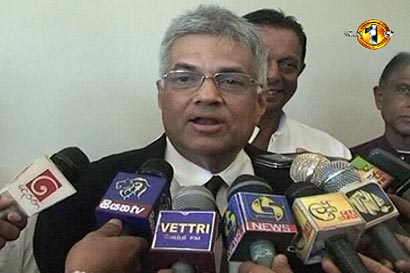 Salaries can be increased by confiscating the assets of Tigers, says Ranil Wickremasinghe, Opposition leader.
The leader of the United National Party (UNP) said that the government had broken two promises – to confiscate Tiger assets and to increase salaries. "When the assets of Tigers are confiscated, increasing salaries is not difficult," said the opposition leader.
Mr. Wickremasinghe expressed these views today, addressing the annual convention of the Sri Lanka Customs Branch of the Jatika Podu Sevaka Sangamaya in Colombo, where a number of UNP parliamentarians were in attendance.
"Now they are keeping KP. Why aren't they using that money to increase the salaries?
"Earlier, they said that they would bring down everything and confiscate them. Now they have broken two promises – to confiscate the assets of Tigers and to increase salaries. When the first is done, fulfilling the second is not difficult at all.
"If more money is needed, we will reveal how to earn it.
"They say that there's no money. But I'm telling you that there is, said Ranil Wickremasinghe.
The Opposition leader also said that it was time to strengthen the trade union movement.
"The government is not paying any attention to trade unions. It does not matter whether the trade union is affiliated with the Sri Lanka Freedom Party or the United National Party.
"Many trade unions are saddened by the manner in which they have been treated by the government. They have lost hope," said the Opposition leader.
Courtesy: News First
Latest Headlines in Sri Lanka