Whether SF could contest will be decided when nominations are submitted – Polls Chief
Posted by Editor on April 3, 2014 - 8:14 am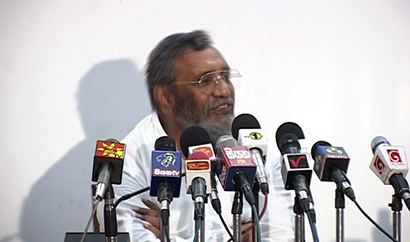 Elections Commissioner Mahinda Deshapriya yesterday said anyone including former army commander and leader of the Democratic Party Gen. Sarath Fonseka, whose name was on the revised valid voters' registry could enjoy his or her franchise at elections, but whether he or she could contest a general or presidential election would be decided at the time of handing over nominations.
Addressing a media conference at the Elections Department Auditorium, the Polls Chief said that he did not want to mention names of party leaders as the Elections Commissioner, but that particular person had been registered in the voters' registry according to the law.
Gen. Fonseka, who lost his civic tights due to a jail term, voted for the first time after getting a conditional pardon from the President at Sumanasara Maha Vidyalaya in Batakeththara, Piliyandala last Saturday.
"We update the voters' registry annually and information on voters is collected through respective Grama Seva Niladaris," Deshapriya said, observing that the updated registry was displayed for one month for any objections, especially by area politicians, who were expected to go through them.
No objections had been raised as regards the name of 'that person' [Gen. Fonseka] in the voters' registry, the Elections Commissioner said, noting that anyone could challenge it even at the moment and the department was ready to probe if necessary.
Registered voters could contest elections, but a person's eligibility would be decided at the time of the submission of nominations after objections, if any, were taken into consideration, Deshapriya said.
Asked why Gen. Fonseka had called him a scarecrow, Deshapriya said that he would rather be called a scarecrow than a corpse.
A smiling Polls Chief said he protected people's voting rights the way a scarecrow protected their harvest from birds.
(The Island)
Latest Headlines in Sri Lanka