Why men should learn from women in cricket – Arjuna
Posted by Editor on February 7, 2013 - 10:04 am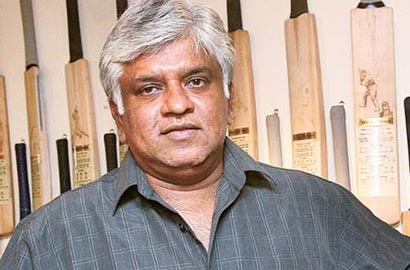 Former captain predicts brighter future for women cricketers
Sri Lanka's World Cup winning captain Arjuna Ranatunga hailed the efforts of the country's women cricketers on Tuesday and went onto say that the women were an example for the men's team when it came to commitment. In the ongoing ICC Women's World Cup in Bombay, the Sri Lankans have come up with some giant-killing efforts, becoming the darlings of the world of cricket.
Many said that Sashikala Siriwardene's side was in Bombay to just make up the numbers, but contrary to predictions, the team has come up with some stunning displays; first against defending champions England, whom they beat in a last ball thriller on Friday, before edging hosts India out of the competition, handing them a crushing 138-run drubbing in a game that was telecast live all over the world.
Incidentally, Sri Lanka's victory came at the Cricket Club of India grounds, just a five minute walk from Bombay's Wankhede Stadium, where Sri Lanka had lost the Men's World Cup final to India, in April 2011.
"I was just so happy for those girls. Their commitment is something to admire and representing the country means so much to them. At a time when some leading players have sold their souls trying to earn money, the women's team provided happiness to many," Ranatunga said, when The Island contacted him, yesterday.
"The women's team is an example for the men's team and their senior players' commitment is a lesson to some senior players in the men's team," Ranatunga added.
"I think the coach Harsha de Silva has to get a lot of credit for these wins. The fitness levels of these players is much higher than it was a few years ago and I think that's one reason why they did so well."
"The leadership on the field has been exceptional. The only drawback I see is that the captain is under-bowling herself."
"I think they were struggling somewhat to promote women's cricket in the country, but make no mistake, these wins will change women's cricket in Sri Lanka, forever. At this moment, we should remember people like Guy de Alwis who fought so hard to get the players an allowance."
Ranatunga himself has been a promoter of the women's team and goes to watch their games in Sri Lanka. Last year, during the World T-20, he was present when the women's cricketers beat the West Indies in Galle.
"There was a time when the men's team objected to the women using the same clothing. Today, they are tweeting, congratulating the team. It's hypocrisy of the highest order. I wonder whether these cricketers have bought a pair of gloves for those women cricketers." Ranatunga added.
The Island
Latest Headlines in Sri Lanka