Wigneswaran slams lack of funds for NPC
Posted by Editor on December 16, 2015 - 6:07 am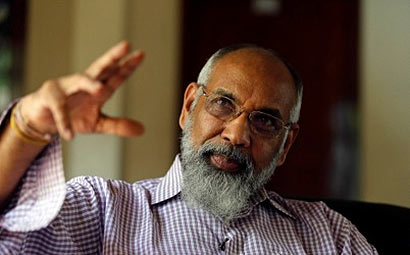 The Chief Minister of Sri Lanka's Northern Province C.V. Wigneswaran on Tuesday expressed opposition to the Sri Lankan government's plan to introduce "Grama Rajya" as the unit of devolution of power.
Presenting the Northern Provincial Council's budget for 2016, Wigneswaran said that as per a circular sent by the Central Government, under the proposed "Grama Rajya" scheme of devolution, the Center's village and provincial level development programs  will be implemented by  committees which come directly under it. This is tantamount to sidelining the Provincial Administration and the Provincial Council, Wigneswaran pointed out.
Although the Maithripala Sirisena-Ranil Wickremesinghe government has a pleasant visage as compared to the regime it replaced, it is continuing the discredited policy of chipping away even the limited powers devolved to the provinces under the 13th Amendment of the constitution, Wigneswaran said.
Although there are no irritations from the present provincial Governor and the Chief Secretary (the incumbents being amiable in comparison with those who held these offices previously), the bureaucracy as such is still not under the control of the Provincial Council, Wigneswaran said.
In Sri Lanka, there is only administrative service or bureaucracy and this comes entirely under the control of the Center.
Wigneswaran complained that the Center has given only 40 percent of the funds sought by the Northern Province for development work in 2016. The NPC had sought LKR 7,978.03 million but got only LKR 3,199 million.
However, the Leader of the Opposition, S. Thavarajah of the Eelam People' Democratic Party (EPDP) said that it would not be fair to expect the Finance Commission (which recommends the quantum of funds to be allocated to the various provinces) to accept in toto, a provincial administration's demand. The commission has to examine a demand from various angles, he argued.
Further, the Northern Province administration is not utilizing the funds already given, he pointed out.
"Till October, only 38 percent of the funds allocated for 2015 had been spent. And the expenditure up to November has not been released to avoid further embarrassment," Thavarajah said.
(Source: Express News Service)
Latest Headlines in Sri Lanka