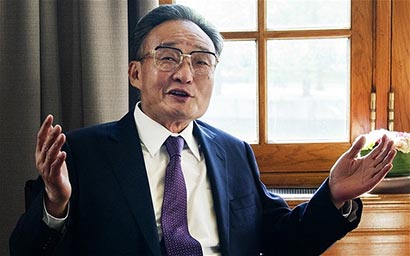 COLOMBO, Sept.16 (Xinhua) — The forthcoming visit by China's top legislator Wu Bangguo will help enhance the relationship between Sri Lanka and China, said Chamal Rajapaksa, speaker of the parliament in an interview with Xinhua here Sunday.
The speaker said he met Wu Bangguo, chairman of the Standing Committee of China's National People's Congress (NPC), during his China tour in June and invited him to visit Sri Lanka, and Wu readily accepted the invitation.
"I appreciate him coming to Sri Lanka at such short notice. He will be visiting the Colombo port on Sunday and then the Sri Lankan parliament on Monday. He will also be signing more than 15 bilateral agreements during his visit," Rajapaksa said.
He said that Sri Lanka wants to study the Chinese parliamentary system and seek advice from Wu during his Sri Lankan visit.
Rajapaksa, the elder brother of President Mahinda Rajapaksa, used to serve as minister in charge of ports and aviation. He said he visited China several times and was impressed with what he saw and the people he met.
"I last went about three months ago. I visited three provinces including several tourist sites. The development in China is most impressive. The tourism in the country is really good," he said.
He recalled his fond memories of China, saying the Asian giant has a lot to offer to his country and people.
He noted that the Chinese government funded the construction of the new port in the southern city of Hambantota and phase one of the project was commissioned last year.
"China has helped us a lot. They helped us with our new port in the south. When I was the minister of ports I initiated this project," he said.
Rajapaksa, who is patron of the China-Sri Lanka Friendship Association, said that he hopes both countries will develop bilateral ties in all spheres.
"China built a conference hall in Colombo known as the BMICH hall and recently we opened another major conference hall built by China also in Colombo," he said.
The new hall, the "Mahinda Rajapaksa Nelum Pokuna hall" hosted a summit of Commonwealth Parliamentarians last week.
"The Commonwealth Parliamentarians were very happy with the way we organized the event and with what they saw," he said.
The speaker said that Sri Lanka's post-war economy was booming and there are several investment opportunities for Chinese and also for investors from other countries.
After suffering a 30-year war, Sri Lanka is now safe for investments, said Rajapaksa, adding that this view was shared by the over 1000 delegates from 54 countries who attended the Commonwealth Parliamentarians conference.
The Sri Lankan military defeated the Tamil Tiger rebels three years ago and since then the country has undergone rapid development, mostly with Chinese assistance, including new road networks, bridges, the new port in Hambantota and a new international airport.
Source: Xinhua