'Incautious behavior' of police, cause of clash: Welikada report
Posted by Editor on November 29, 2010 - 4:55 pm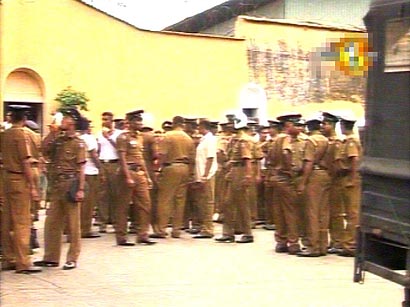 The report produced by the committee that had been appointed to examine and investigate the clash that occurred at the Welikada Prison recently has been submitted to the Secretary of the Rehabilitation and Prison Reforms Ministry.
At least 44 policemen were hospitalized as a result of the clash that took place on 07 November, when police officers had conducted a raid at the Welikada Prison.
Necessary steps will be taken in order to present the report to the Minister in charge, Chandrasiri Gajadeera as immediately as possible, the Ministry's Secretary A. Disanayake said.
He revealed that the report received from the committee confirms that it was the incautious behavior of the police that had led to the clash.
Disanayake further added that "a certain police officer disregarding the advice of prison guards and going towards the inmates has been listed as the most probable cause of the clash in the report I recieved".
The report also confirms that Prison officials had no knowledge of the raid until police officers had already arrived in order to search the prison premises, the Secretary disclosed.
He also added that eight prisoners have been identified in regard to the attack and disciplinary inquiries are currently being conducted on them.
Courtesy: Ada Derana
Latest Headlines in Sri Lanka