'100-day' prepared by those supported Maithri, not only UNP: Harin
Posted by Editor on June 4, 2018 - 6:54 pm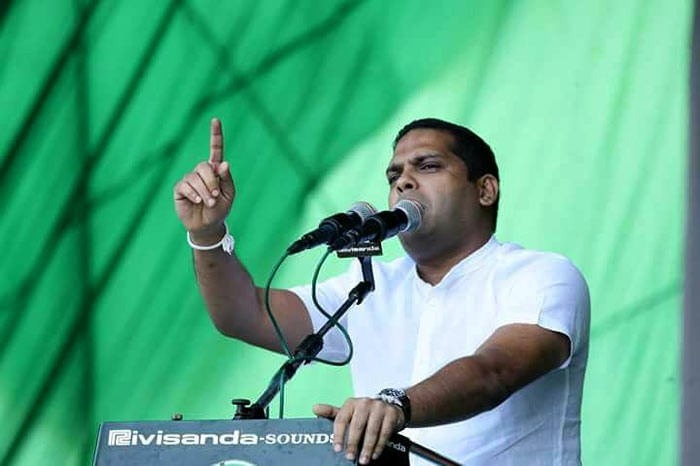 The 100-day programme was not a part of the UNP manifesto but a policy document which was prepared and marketed by those who supported the common candidate Maithripala Sirisena for the presidency, UNP Spokesman and Publicity Unit Chief Harin Fernando said today.
"The 100-day programme slogan which we marketed at that time was 'Maithri palanayak dina seeyakin aluth ratak' (A Maithri administration and a new country in 100 days). This was a creation of all political parties and civil society groups which rallied round the common candidate for the 2015 presidential election," he told a media conference.
This is the first official statement made by the UNP after the President publicly criticized the 100-day programme last week.
Mr. Fernando said January 8, 2015 was the day on which a silent revolution toppled the then government.
"It was not the UNP which decided to field a common candidate and neither was it the only party that wanted to end the previous regime in 2015. This was a decision arrived at by all those who opposed the then regime. However, the UNP also endorsed the fielding of a common candidate at the presidential election," he said.
"It is also true that people endorsed the common candidate, the then SLFP General Secretary Maithripala Sirisena. People trusted him more because of the 100-day programme. We were not able to fulfill some of the pledges we made under this programme because some of those who supported former president Mahinda Rajapaksa sabotaged it. However, we fulfilled a several of the promises. This includes national pharmaceutical policy, the 19th Amendment and the Right to Information Bill," he said.
(Source: Daily Mirror – By Yohan Perera)
Latest Headlines in Sri Lanka