13th Amendment to top agenda of TNA – Salman Khurshid meet
Posted by Editor on October 7, 2013 - 10:06 am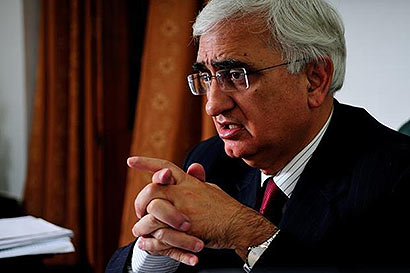 Tamil National Alliance (TNA) leaders will urge India to push the Sri Lankan government to fully implement the 13th Amendment, in their meeting with External Affairs Minister Salman Khurshid.
Mr. Khurshid will meet the TNA's Chief Minister designate C.V. Wigneswaran — to be sworn in before the President on Monday — and senior leaders in Jaffna on Tuesday
Speaking to The Hindu on Sunday, TNA parliamentarian M.A. Sumanthiran said they would follow up on the Sri Lankan government's commitment to India, to implement the 13th Amendment — which followed the India-Sri Lanka Accord of 1987 — and go beyond, as was promised by President Mahinda Rajapaksa.
Now that the new provincial council has been elected — TNA recorded a massive victory, obtaining 30 out of the 38 seats in the Northern Province in the recent first-ever election to its council – the Alliance, as the next step, will take up the issue of meaningful devolution of powers, Mr. Sumanthiran said.
Some sections have, for long, been questioning the Sri Lankan government's intention to devolve power to the provinces but the recent provincial election in the north was seen as a welcome move. However, a recent Supreme Court judgment that said powers over land remained with the Centre only fuelled concerns about its intentions.
In this context, the TNA's meeting with Mr. Khurshid — its first major meeting in Jaffna after the September 21 elections, assumes further significance.
Amid critical reports in the local press suggesting that the TNA seldom spoke on the issue of Indian fishermen reportedly poaching in Sri Lankan waters, Mr. Sumanthiran said: "We will discuss the fisheries issue as well. We have spoken to the Indian Prime Minister about it on two occasions earlier, and discussed options where in fishermen on both sides are given equipment to explore deep sea fishing as an alternative."
The local press is abuzz with reports of Mr. Khurshid's visit, some openly sceptical of the outcome. Echoing a prevalent opinion that Tamil Nadu, to a significant degree, dictated Indo-Sri Lanka relations, The Sunday Times in its editorial on the Foreign Minister's visit, published on Sunday, asked: "There is one thing the visiting Minister might wish to consider; i.e. whether India's foreign policy vis-a-vis Sri Lanka will forever be Tamil Nadu-centric and if that be so, isn't this alienating the rest of India from good neighbourly relations with Sri Lanka and losing the Sri Lankan people's natural affinity and goodwill for his country?"
(Courtesy: The Hindu)
Latest Headlines in Sri Lanka