18th Amendment will leave Public Servants at President's mercy – Ranil
Posted by Editor on September 3, 2010 - 6:01 pm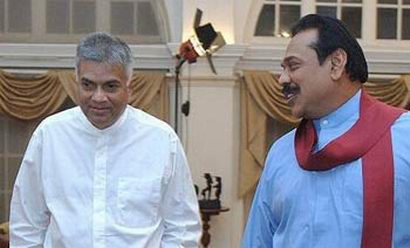 The Island – by Zacki Jabbar
Instead of implementing the 17th Amendment that would have given public servants the badly needed protection they require, public servants are tied to trees and abused by members of the Mahinda Rajapaksa government, Opposition leader Ranil Wickremesinghe said yesterday.
Addressing a group of public servants in Colombo, he said that President Mahinda Rajapaksa's proposed 18th Amendment has sought to deny the protection that the Public Service Commission, if implemented, would have given harassed government employees.
"Without implementing the Public Service Commission established in terms of the 17th Amendment, President Rajapaksa was trying to bring in an 18th Amendment that would make the Public Service Commission an ineffective body, as the President can override its decisions."
The government has urged public servants to ensure that there was an increase in revenue. But, how can they focus on such targets when their colleagues are harassed and assaulted in public, Wickremesinghe queried.
"One has to have peace of mind to do a job properly. The President it appears, wants public servants to deliver the goods, regardless of the pressures including physical harassment they are being subjected to, by his own party members."
The UNP, he said was prepared to support amendments that would establish a People Friendly Constitution, but was opposed to any changes aimed at perpetuating the Rajapaksa dynasty.
Latest Headlines in Sri Lanka