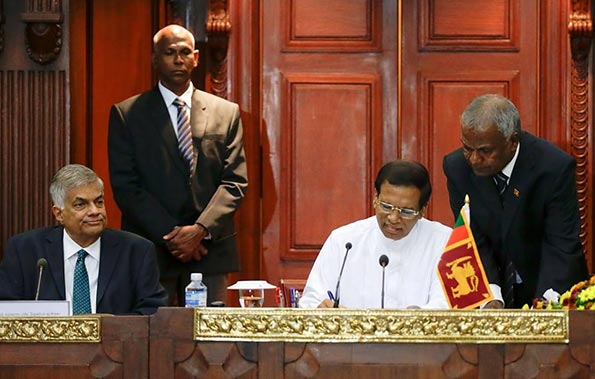 Following a shock decision worked out in total secrecy last Friday with Premier Ranil Wickremesinghe, President Maithripala Sirisena will this afternoon swear-in 30 SLFP MPs as ministers, 15 of them with Cabinet rank and 15 others as Deputy Ministers, in a political feint that will see the promised Sirisena-Wickremesinghe National Government coming to fruition with more than a month to elapse before government completes 100 days in office.
SLFP members who are holding positions in Parliament and top posts in the party are not among those who will be sworn-in today as ministers, deputy ministers or state ministers, the source added. This would hence leave out Opposition Leader Nimal Siripala de Silva, Chief Opposition Whip John Seneviratne and SLFP General Secretary Anura Priyadarshana Yapa from the list.
None of the Sandanaya Alliance members have been offered anything.
The move will result in the present 29-member Cabinet of Ministers expanded to 44, a further 15 deputy ministers added to the current 13 besides the nine state ministers in the present government..
This marks the official entrée of the Sri Lanka Freedom Party (SLFP) into President Sirisena's promised National Government that will hold its first National Government Cabinet meeting tomorrow, March 23.
The appointment of another 10 state ministers from the SLFP will also be finalized at a meeting set to be held this morning, the sources added. If the suggestion to offer these10 state ministerial portfolios also gets the green light this morning, it will boost the number of State ministers to 19.
(Ceylon Today)