Acting true to form: Cashing in on the dead, JVP's creed – Minister Dilan Perera
Posted by Editor on June 3, 2011 - 8:53 am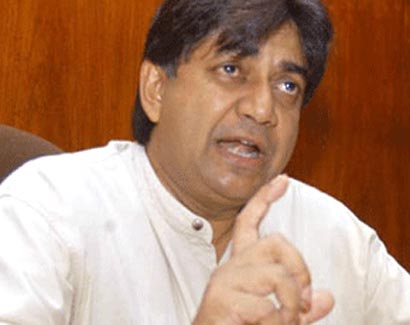 "From the beginning, the JVP got a person killed and then sold his body and blood stained clothes to gain political advantage. This time a garment worker became their victim. The police blindly assisted the JVP to kill this person," Foreign Employment and Welfare Minister Dilan Perera said.
Addressing a press briefing at Olympic House, Colombo 7 yesterday, Minister Perera said that taking advantage of bodies to grab power is the traditional and popular method used by the JVP.
"The JVP has been practising this method from the beginning and undergraduates and many others became their victims in the past. The JVP tries to win over people by getting a person killed and selling his body and blood- stained clothes because they have already been totally rejected by the people. They try the same thing abroad using Sri Lankan migrant workers but have failed. One example is their failed mission that took place in a factory in Jordan recently where they tried to use Sri Lankan workers as cat's paws. The JVP has a plan to attack the country's economic nerve centres."
Minister Perera said that the UNP is now hanging on to the tail of the JVP. A section of the UNP is trying its best to solve their internal conflicts using FTZ incident. Resignation of the IGP shows the accountability of this government.
The government has already appointed a commission to probe the FTZ incident. No IGP resigned in the history of the police force before due to any incident. No commissions were appointed. It was the UNP which gave promotions to the police officers who killed civilians in the past. An SI who attacked Mrs. Vivian Gounawardena was promoted to the position of IP and the ASP who attacked Sama Viharaya promoted to the position of SP. Their fines (imposed by the court) were paid by the UNP Government.
The police officer who blew the cover of the Athurugiriya Millennium City Intelligence unit was rescued by the UNP by paying his fine. The two police officers are siblings.
President Mahinda Rajapaksa listened to the grievance of the Sri Lankan migrant workers and gave them a pension scheme. They sent a large number of Short Messages (SMS) thanking the President for giving them a pension scheme.
These workers do not have ETF and EPF. The pension scheme is a blessing for them. When we have been offered something good we have to accept that and deal with their shortcomings through discussions. That has already been done. Totally rejecting anything is a stupid action.
The private sector pension scheme is not something given by the Government by force. It was requested by workers, Minister Perera added.
Courtesy: Daily News
Latest Headlines in Sri Lanka