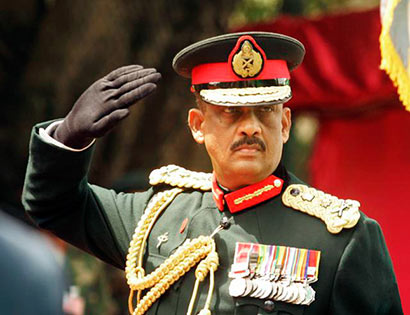 Entitlement to wearing of all decorations of General (retd) G.S.C Fonseka, former Chief of Defence Staff and Commander of the Army who left an indelible legacy of gallantry by directing the Army to wipe out LTTE terrorism from Sri Lanka, has been restored, following the full Presidential amnesty, granted by HE the President Maithripala Sirisena, in terms of the powers, vested in HE under Section 34 of the Constitution.
Ministry of Defence has accordingly confirmed that he is entitled to his rank of Four Star General, medals, pension and other privileges which were stripped of in 2010, by two Army tribunals before he was cashiered and imprisoned.
Accordingly, General Fonseka could wear Rana Wickrama Padakkama (RWP), Rana Sura Padakkama (RSP), Vishishta Seva Vibhushanaya (VSV), Uththama Seva Padakkama (USP) and all other decorations which had been awarded to him during his career.
He graduated from the Army Command and Staff College, having obtained the psc (passed staff college) degree, in addition to the successful completion of several other local and foreign career courses.
Enlisted to the Sri Lanka Army on 05th Feb 1970, General Sarath Fonseka, was commissioned as a 2 Lieutenant in the 1 Sri Lanka Sinha Regiment (SLSR) which is a prestigious infantry regiment before he was promoted to the rank of Lieutenant on 05.02.1973. After successfully completing the Commando Officers Course in 1973 (India), he entered the Sri Lanka Military Academy (SLMA), then known as the Army Training College (ATC) at Diyatalawa for training.
During his distinguished career, he received promotions to the ranks of Captain (1976), Major (1980), Lieutenant Colonel (1988), Colonel (1991) and Brigadier (1993) before he was elevated to the rank of Major General in 1998 while he was serving as the General Officer Commanding, 55 Division in Mirusuvil. Similarly, he served as the coordinating officer for North and East, Kayts and Mandathivu, Polonnaruwa, Commander, Task Force 1, Mannar Area Headquarters and several other key appointments including the General Officer Commanding, 22 Division appointment in Trincomalee.
Major General Sarath Fonseka who served as Colonel of the Regiment, Sri Lanka Sinha Regiment (twice), held a number of responsible appointments at the Army Headquarters as Director General General Staff, Quarter Master General, then Inspector of Infantry, Commander, Security Force Headquarters – Jaffna (twice) and later Wanni. He was also appointed the Commandant, Army Command and Staff College at Sapugaskanda, Commandant at Sri Lanka Army Volunteer Force (2003-2004), Director General Infantry at Army Headquarters, Deputy Chief of Staff and afterwards the Chief of Staff in December 2004.
During his military career, General Fonseka attended a number of overseas courses, seminars and conferences, including the ones in India, Pakistan, Bangladesh, United States, United Kingdom and Japan.
In December 2005, he assumed office as the Commander of the Army on being promoted to the rank of Lieutenant General as the cycle of LTTE terrorism was reaching a critical stage.
As the Commander of the Army, he threw his full weight behind the success story of the humanitarian operations which brought durable peace and stability to the country in May 2009.
While the operations to eliminate terrorism were on after the Mavilaru episode, he survived a suicidal LTTE attack inside the Army Headquarters in April 2006. Despite serious injuries he sustained, General Fonseka continued to command the humanitarian operations after recovery until the war came to an end on 18 May 2009 with the death of the terrorist leader.
In recognition of his services, he was promoted to the rank of General immediately after the culmination of the war on 18 May 2009 and on 14 July 2009 he was appointed the Chief of Defence Staff.
He was later cashiered from the Army and imprisoned after he was found guilty in two Army tribunals. Having served more than two years of his jail term, General Fonseka was finally released in May 2012. He afterwards took to politics.
(Courtesy : Army Media)