Argentines rush to churches, weep as countryman elected pope
Posted by Editor on March 14, 2013 - 8:06 am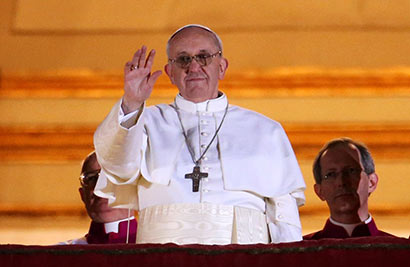 BUENOS AIRES (Reuters) – Some crying with joy, others praying, Argentines poured into churches on Wednesday to celebrate the surprise election of one of their own as Latin America's first pope, with many hoping he will bring his well-known common touch to the Vatican.
Churchgoers in this mainly Roman Catholic country said they want former Cardinal Jorge Mario Bergoglio – a 76-year-old Jesuit who has chosen the name Pope Francis – to bolster the Church after a series of scandals.
Bergoglio won praise over the years for opting to travel to work by bus and live in a simple Buenos Aires apartment – near the stadium of his favorite soccer club, San Lorenzo – rather than the sumptuous archbishop's residence.
"I hope he changes all the luxury that exists in the Vatican, that he steers the church in a more humble direction, something closer to the gospel," said Jorge Andres Lobato, a 73-year-old retired state prosecutor.
"This is a blessing for Argentina," one woman shouted in the streets of central Buenos Aires.
President Cristina Fernandez, who has had a distant relationship with Bergoglio during her six years in power, congratulated him on Wednesday.
"By opting for the name Francis, after St. Francis of Assisi, he is opting for the poor, so that humanity may be united in equality," the leftist president said in a speech.
Bergoglio has criticized Argentine politicians for failing to do more to fight poverty in a country in the grip of high inflation and with a long history of economic instability.
He has also angered the government by speaking out against a law sponsored by Fernandez legalizing gay marriage.
MOVE OVER MARADONA
Few Argentines thought the unassuming Bergoglio would be chosen.
Within minutes, Twitter feeds went wild with the phrase "The hand of God, again," in reference to soccer star Diego Maradona, one of Argentina's best-known sons, who used it after being accused of using his hand to score a goal against England in the 1986 World Cup.
Bergoglio – who has spoken in favor of dialogue rather than dogma as the remedy to the problems faced by the Church – joked about Argentina's far-flung position in South America in his first public comments from the Vatican after being elected.
His brother Cardinals "went to the end of the world" to find a new Pope, he said.
"He is a very serious figure, with moral clout … but very down to earth," said Monsignor Eduardo Garcia of the Cathedral of Buenos Aires.
Argentine television aired interviews with churchgoers who said they had seen Bergoglio from time to time praying in the pews side by side with parishioners.
He was, however, criticized in "The Silence," a book about his handling of the case of two Jesuits thrown in jail during Argentina's violent 1976-1983 dictatorship for their work in poor neighborhoods.
According to the book, Bergoglio withdrew his order's protection of the two men after they refused to quit visiting the slums, which ultimately paved the way for their capture.
Those who defend Bergoglio say there is no proof behind the claims that he failed to protects the priests.
The decision by 115 cardinal electors sequestered in a secret conclave in the Sistine Chapel came sooner than many experts expected because there were several front runners before the vote to replace Pope Benedict, who resigned in February.
The cardinals faced a thorny task in finding a leader capable of overcoming crises caused by priestly child abuse and a leak of secret papal documents that uncovered corruption and rivalry inside the Church government or Curia.
The wave of problems is thought to have contributed to Benedict's decision to become the first pontiff in 600 years to abdicate. (Reuters)
Latest Headlines in Sri Lanka