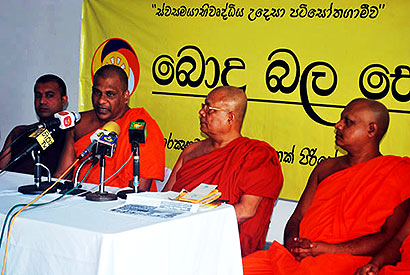 The controversial Buddhist outfit, Bodu Bala Sena(BBS) will be reborn as the Bodu Jana Peramuna (BJP), to field lay candidates at the forthcoming parliamentary elections, BBS Executive Committee member, Dilantha Withanage said.
"We have already placed advertisements calling for suitable candidates and will soon commence countrywide election campaigns," Withanage said. He said the current political sphere does not have educated and visionary people and the BBS will seek to fill this political void by choosing one strong candidate to represent each electorate.
Withanage emphasized that that the BBS does expect a miraculous political victory but was willing to fight for slots and fair representation in the legislature. Bodu Bala Sena (BBS) General Secretary, Galagoda Aththe Gnanasara Thera emphasised that the BBS bhikkhus will not contest the election. "We will bring in qualified people with knowledge and vision," he said. The BBS is not a registered political party and will contest under the BJP banner.
Secretary General of the BJP, Dr. Nath Amarakone said, "We must emphasize on occupational group representation in order to achieve quality in politics."
(Daily News)