Bribery and corruption allegations against Ex-CJ: ENOUGH EVIDENCE TO PROVE HER GUILT
Posted by Editor on May 11, 2013 - 7:15 am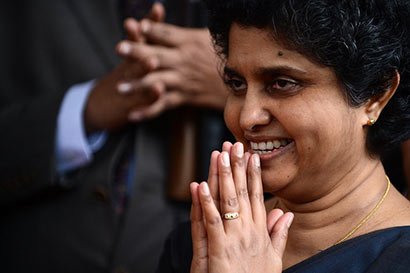 The Commission to Investigate Allegations of Bribery and Corruption was in possesion of enough evidence pertaining to ex-CJ Shiranee Bandaranayake to prove bribery and corruption allegations against her.
The charges include the amassing of wealth beyond the means of an ordinary public servant and the submission of falsified reports regarding her assets and liabilities.
The Commission had subject these allegations received several months ago to an initial investigation since prima facie evidence revealed that there was truth in the charges proferred before the commission.
The commission summoned the ex-CJ to obtain a statement. Ex-CJ Shiranee Bandaranayake who raised objections to the investigations obtained a further date to make submissions.
The ex-CJ who dodged making submissions on two earlier occasions yesterday appeared before the commission and made a statement after making written submissions.
The commission is now due to consider the statement and submissions made by the ex-CJ within the next four days and decide whether to proceed with the case.
If the oral and written submissions made by her are found insufficient to exonerate her, the commission will conduct further investigations in keeping with its powers irrespective of whether she assisted the investigations or not and if she is found guilty, the commission will file a case against her on bribery and corruption charges.
Meanwhile, the Immigration and Emigration Department has impounded the ex-CJs passport at the request of the Commission, to prevent her from going abroad.
(Courtesy: Daily News)
Latest Headlines in Sri Lanka