Brisk polling in the three PC elections
Posted by Editor on September 8, 2012 - 12:19 pm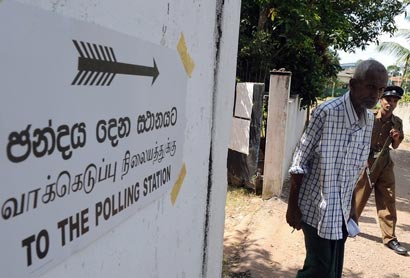 Polling in the three provincial council elections for the North Central,  Sabaragamuwa and Eastern provinces started at 7.00 a.m. this morning. Brisk polling is reported from all the areas and voters are reported to have queued up since early morning to cast their votes. At least two Policemen will be on duty at every Polling Booth.
3.36 million voters are eligible to cast votes in the three provinces to elect 108 provincial council members. There are 3073 candidates in the fray. 1619 of them are candidates from registered Political parties and 1454 are Independent candidates.
There are 895 polling booths in the North Central Province, 1189 in the Sabaragamuwa Province, and 1163 in th Eastern Province.
Several thousand election monitors have been deployed by the election monitoring organizations and the Paffrel organization has assigned 2000 monitors in all the three provinces.
An extremely peaceful environment is reported to be prevailing in all the districts where the polls are being conducted.
Counting of postal votes is expected to begin at 5.00 PM and the first district based postal vote result is expected be announced around 10.00 O' Clock tonight. The Election Commissioner hopes to declare district results by 6.00 O' Clock tomorrow morning.
All Media Institutions have established their election results at the Information Department.
The Director General of Information Professor Ariyaratne Atugala has made all arrangements for the Media Institutions to conduct their election results announcements from the Information Department premises.
Source: Government News Portal
Latest Headlines in Sri Lanka