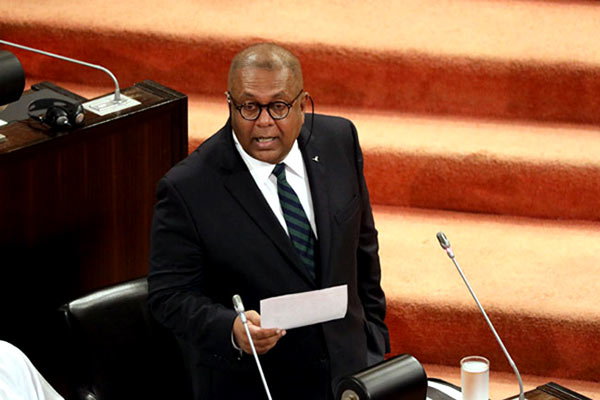 Finance and Mass Media Minister Mangala Samaraweera presenting his maiden budget for 2018 envisions to increase the economic growth rate to 6 percent by 2020 from the current 4.5 percent.
Economic analysts viewed this budget as one that would introduce far reaching reforms since 1978, to make the economy more competitive.
The fourth budget proposals of the Unity Government under the theme 'Blue Green Budget' for the fiscal year 2018 will support the achievement of envisaged medium-term targets such as Per Capita Income of USD 5,000, one million new jobs, FDI inflows of USD 5 billion, and doubling exports to USD 20 billion.
"In 2018, we envisage a GDP growth of 5 percent, inflation of around 6 percent, and we hope to achieve for the first time in almost 6 decades, primary surplus of 1 percent of GDP and a Budget deficit of 4.5 percent of GDP.
Minister Samaraweera stated that the overall, the economy is expected to grow by around 4.5 percent in 2017 and projected to move gradually to a higher GDP growth path of around 6 percent by 2020, while containing the level of unemployment at around 4 percent level.
He further said, "We are in the process of effecting revenue reforms in all areas including Inland Revenue, Customs, Excise and others to raise Government revenue closer to 20 percent of GDP over the medium-term. As revenue increases, and expenditure remains well targeted and rationalized, overall budget deficit is expected to reduce up to 3.5 percent of GDP by 2020."
Minister Samaraweera stated that the government will introduce the Enterprise Sri Lanka Credit Scheme with the objective of encouraging the SME sector to strengthen Entrepreneurs. He added that during 2018-2020, the government will support the formation of 50 agro and fishery companies, 25 majority women owned companies, and 150 youth centric startups. These companies will have at least 10 equity shareholders and each shareholder will have invested at least Rs. 10,000.
He said that in order to encourage women entrepreneurs, the "Enterprise Sri Lanka Credit Scheme" will make available credit facilities with the interest subsidy being at least 10 percent more for women entrepreneurs relative to others.
The Finance Minister said that through the Budget 2018, Rs. 2,000 million has been allocated to further strengthen the skills development programmes undertaken by the National Youth Corps."We propose to implement a programme where youth groups will undergo 3 to 6 month training courses in a specific skill as demanded by the private sector. We will establish the "Employment Preparation Fund" at the Ministry of National Policies and Economic Affairs with an allocation of Rs. 2,500 million."
With the aim of promoting direct foreign investments and simplifying business registration, a One Stop Shop for business registration through a single identification system and introducing of a system to scan and digitize company records, create a database of trademarks, using Department of the Registrar of Companies' funds was also proposed.
Focusing on debt repayment, Samaraweera said the next three years would be crucial with debt repayments amounting to almost Rs.7,000 billion.
"This includes the repayment of international sovereign bonds which will mature every year amounting to almost Rs. 600 billion where bunching is a severe strain on the Government finances. In 2018 alone, the debt repayment amounts to Rs. 1970 billion. As was the case in the last two years, the government did not compromise on the investments to be made in 2018, in spite of the impending debt burden."
With regard to Customs, Excise and Inland Revenue Dept's will be restructured and strengthened by way of introducing new ordinances for better revenue collection.
With the aim of fostering reconciliation, a large number of proposals have been made including the construction of 50,000 brick and mortar houses for the North and East and introducing irrigation systems and construction of a home for differently abled women in the North, introduction of low interest loans and provision of a stable livelihood for 12,600 rehabilitated ex-combatants. Further an economic centre will be established in Jaffna, Dambulla and Colombo creating an economic triangle.
In addition, Rs. 2500 million will be allocated to provide housing and infrastructure for the Muslims who were forcibly evicted from the North by the LTTE in the early 1990s.
Minister Samaraweera in conclusion said the country is at the crossroads of history and the choice whether we are to walk forward, united in our diversity to a new age of freedom and prosperity or go back to the darkness of a bygone era is a choice which is ours to make.
Budget 2018 highlights
-Rs. 25 million allocated to establish a Virtual Blue-Green institute.
-The government will bear 50% of the cost of Multi Day trawlers longer than 55ft to encourage deep sea fishing.
– The Meteorology Department will be modernised.
-New insurance will be introduced for six crops including paddy; Rs. 40,000 per acre.
– Rs. 500 million allocated to offer loans under 'Entrepreneurs Sri Lanka' programme.
-Strong anti-dumping and countervailing laws to support local industries.
– Government will remove upto 1800 para tariffs in 2018.
– Loans for SME industries, without guarantors.
– Rs. 10,000 million allocated to establish a EXIM bank specially to provide long term loans to small and medium enterprises.
– Rs 800 million for Export Market Access Programme to be introduced for companies with less than 10 Million dollars in earnings and for potential new entrants to the export market.
-Restrictions on foreign ownership of shipping and freight forwarding agencies will be lifted
– Rs 250 million will be allocated to support tea smallholders
-All tourism service providers to register with the Sri Lanka Tourism Board to bring the informal sector under the broader tax net.
-VAT refund scheme for foreign passport holders at airports and seaports from May 1, 2018.
-New Production Tax to discourage polythene and plastic production
-Rs 3 billion to accelerate Aruwakkalu waste management programme.
-Registrar of Companies Department to implement one stop shop for company registration.
– Three Wheeler Regulatory Authority to be established under Transport Ministry.Tourist Board Approved Tuk Tuks and a programme to train tuk drivers as tourist guides.
-Meters will be made compulsory for three wheelers.
-Restrictions that limit land ownership rights of listed companies with foreign owners to be removed.
-High-end technical colleges will be established with the assistance of Germany and Switzerland
-Subjects such as genetics, robotics and nano technology to be introduced to school curriculum to prepare students for jobs of the future.
– Rs 1.25 billion allocated to establish Medical Faculties and develop medical education at Wayamba, Sabaragamuwa and Moratuwa Universities.
-Monthly payment of Rs. 3,500 to students in National Colleges of Education (VidyaPeeta) will be increased to Rs. 5,000.
-Rs 750 mn allocated to empower smart classrooms project.
-Mahapola Scholarships for another 3,000 students
-A new Health insurance scheme to be introduced for University Students
-Rs 5000 billion to expand IT and engineering.
-Single window for New Business Registrations proposed.
-NBT Tax to be imposed on liquor from April 1, 2018.
-A production tax of 50 cent per gram of sugar will be imposed on sweetened beverages from midnight yesterday.
-Rs. 325 billion has been allocated for country's youth.
– Three kidney treatment centers will be established in Polonnaruwa, Anuradhapura and Jaffna.
– Rs. 2,000 million allocated to construct 25,000 housing units for those in line houses
– Rs 3000 million allocated to build houses to resettle those affected in the conflict.
– Rs. 500 million allocated to establish University on Policing and Criminology.
-Pre-paid electronic card system to SLTB and private buses.
-Govt. will divest holdings in non-strategic interests.
-Rs 25 million allocated for Special Court to be established to prevent delays and address large backlog of financial and organised crime cases in the judicial system.
-Rs. 10,000 million allocated to provide infrastructure facilities to construct expressways.
-Rs. 17,000 million allocated to develop Kandy, Anuradhapura,Galle and Jaffna.
-A common system to pay salaries of public servants.
-State Sector to be digitised to increase productivity.
-An emergency and health insurance cover to be introduced for all artistes.
– Retirees after 2016 will get 'Agrahara' cover throughout their life time and Rs 50 m allocated.
-Rs 1 billion to provide grants and low interest loan schemes to those trapped in debt in North and East.
-0.2% tax on bank transactions to be utilised to repay debt.
-25 cent levy on SMS advertising.
-Licences to be issued to import cigarette.
-Temporary tax of 20 cents per 1,000 rupees will be imposed from April 1, 2018 on all banking transactions as a loan repayment tax for the next three years.
(Source: Daily News)